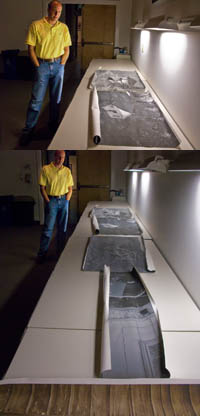 Jay took a risk. He brought in large scale photographs printed on canvas for review. They were different. This triggered a long dialog on mixed media and installations. Now he's no longer thinking in conventional terms about making prints. In 30 minutes we listed dozens of ideas for expanding the possibilities of printmaking and presentation; multiple media – silk, mylar, metal, transfers; multiple picture languages – photographs, blueprints, text, code; and multiple installations – hung on walls, becoming the walls, drapes, projections. This is one of the things that's so stimulating about teaching. It's inspiring to see diverse perspectives. And it's a privilege to be able to help others realize their visions. I highly recommend you take time to explore your options. Think of the possibilities! You might surprise yourself … and us!
How many ways can you think of enhancing your images with media? Make a list. Then rank the list and try the most promising options.
These are the kinds of dialogs Mac Holbert and I have every day with participants in our the Fine Art of Digital Printing workshop during our extensive One on One and Review sessions. This week we're at the Hallmark Institute of Photography.
Check out Jay's website here.
Find out about the Hallmark Institute of Photography here.
Find out more about The Fine Art of Digital Printing workshop here.
Find out about my The Fine Digital Printing workshop series here.