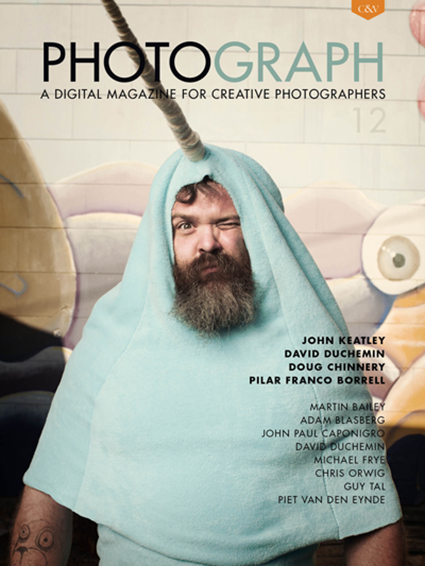 Get 20% off PHOTOGRAPH 12 through Wednesday, April 21, 2015 here.
"Issue 12 of PHOTOGRAPH magazine celebrates diversity of expression, from imaginative portraiture, to the sensual canals of Venice, the solitude of dales in snow, and the joy of telling stories about oneself.

Portfolios and interviews include John Keatley (interviewed in Episode 5 of the C&V iTunes Podcast), who lets us in on the behind-the-scenes nerves and excitement of photographing celebrities, and what it takes to come up with ideas to keep portraits interesting and entertaining; David duChemin, who opens his heart—and his portfolio—about his ongoing photographic Venetian love affair; Doug Chinnery, who explains why sharpness is overrated and that there are no rules (or police) in photography; and the Instagram stylings of Pilar Franco Borrell, who—despite her claims of "being a bit of a mess"—creates light and fun photographic stories in which she is often the main character.

Regular contributors John Paul Caponigro, Michael Frye, Guy Tal, Chris Orwig, Martin Bailey, Piet Van den Eynde, Adam Blasberg and David duChemin express themselves with articles on discipline, position, knowing where to stand, letting go of perfectionism, choosing risk, metering modes, the evolution of a portrait, the power of persistence, and creating a presentation folio."
In my column Creative Composition I discuss the importance of Position within the frame.
Find PHOTOGRAPH 12 here.