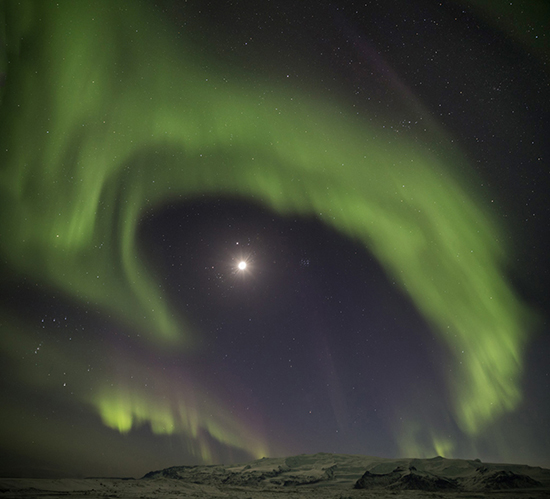 Iceland – Auroras and Ice Caves
TBD
.
Limited to 12 participants
This is a Digital Photo Destinations workshop. Caponigro Arts & D-65 discounts do not apply.
(Rooms are single occupancy unless otherwise requested.) (Price does not include intl airfare, alcohol, and incidentals.)
The Adventure
Join us for northern lights, night photography and hiking glaciers in the wild wonderlands of Iceland.
Digital Photo Destinations (John Paul Caponigro and Seth Resnick) join forces with Focus On Nature's Einar Erlendsson and arctic photographic specialist Ragnar Th Sigurdsson (arctic-images.com), a native of Iceland who has extensive knowledge in night photography and lighting on location. Our specialists know the local terrain like few others do. (This will be John Paul's ninth and Seth's seventh workshop in Iceland.)
Imagine hiking the south coast glaciers by day and photographing Iceland's glacial lagoon (Jokullsarlon) by the light of the moon under northern lights. Our special workshop is scheduled when conditions are excellent for night photography.
Join us and you'll think you've gone to another planet – but that's the way Iceland is.
Curriculum
Creativity, composition, workflow, and post-processing are only a few of the topics that will be presented.
We'll focus extensively on night photography – long exposure, flash, light painting and of course astrophotography.
You'll get lots of guidance on site and reviews of your work off site.
Get ready for a non-stop week of making images in a breathtakingly beautiful landscape!
Workshop Requirements
An open mind, and curiosity are the primary requirements for this week.
Participants need a digital camera, portable computer, and Photoshop or Lightroom.
A basic comfort level with Photoshop or Lightroom is required.
More advanced photography and digital imaging software skills are a plus.
The more you bring to the event, the more you'll take away.
"(John Paul) has taught me how to be a complete artist, true to myself, while expanding my vision and creative voice. Seth is a kindred adventurer whose talent in the field is equal to his extraordinary ability to edit, organize and leverage thousands of images. The two together represent complimentary forces – the yin and yang if you will – across the spectrum of creative thought and expression."