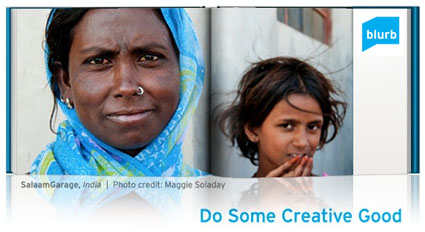 Individuals, non-profits, and organizations of every size and stripe have raised awareness and funds for their causes with Blurb books.
You'll enjoy many benefits when you join Blurb for Good.
An easy solution
No big budgets or massive production needed. Your expenses are merely the cost of a book, that's it. We take care of the rest and give you everything you need to create, promote, and sell your book for your cause.
Fundraising mojo
Our Set Your Price program lets you name your book's price and keep 100% of the profit for your cause. We do all the bookwork, from fulfilling orders to tracking donations and proceeds, to cutting checks and sending them your way. You'll also get detailed revenue reports, including stats on books sold and the number of visits to your book detail page.
Contributions from Blurb
If you qualify, we'll even pitch in with a charitable contribution for every book you sell. Simply apply to our charitable contributions program and we'll pitch in with $1 for every book sold.
High visibility
Get the word out with free promotion tools like Blurb BookShow™, our new book preview widget, and Blurb book badges. Put your book in our Blurb for Good bookstore. And be eligible for our Staff Picks, features in our blog, and shout-outs on Blurb's Facebook and Twitter pages.
A lot of flexibility
Print on demand means we print to order, one by one. No waste, no warehousing. Discounts to you start at orders of ten or more books. And if you're thinking books by the hundreds, we can do offset printing for even better economies of scale.
So do some good and join Blurb for Good.
Learn more with my Bookmaking Lessons.
Learn more in my Fine Art Digital Printing Workshops.