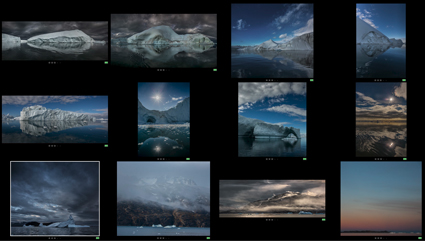 In reviewing my Greenland 2013 Contact Sheet it's become even clearer to me that once you get certain kinds of successful shots the bar is raised for your future efforts. There are many good images here. But are they as good or better than other similar images I have, both from Greenland and from Antarctica? If not, why use them? (How many images do I really need? When do the new images draw attention away from old images – for better or for worse?) The answer to this depends on how I plan to use them. Since I have fewer images from Greenland than Antarctica (I've only visited it twice while I've visited Antarctica six times.), if I were assembling a body of work on Greenland, many of these would make the cut. Since I'm not currently planning on doing this, they have to work within the context of an Arctic/Antarctic project. That project has been on my mind for many years and is still in development. This set isn't enough to bring it to fruition. For now, I suspect I'll put most of them on hold possibly using a few for composites.
View more Contact Sheets here.
Learn more in my digital photography and digital printing workshops.