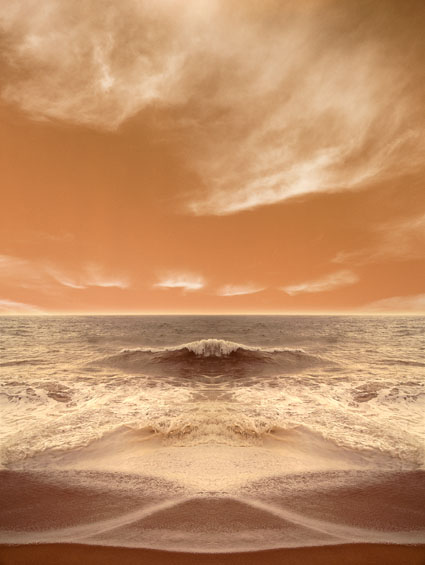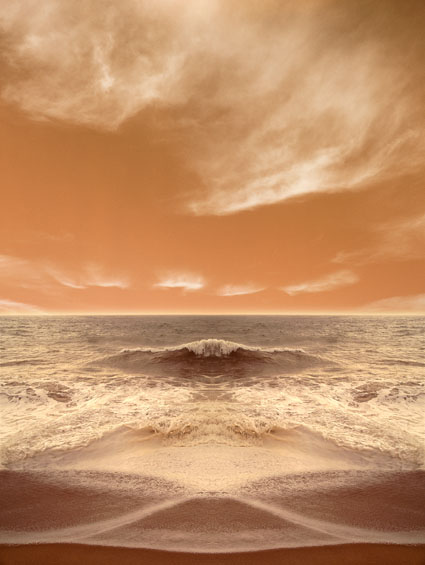 Inhalation I, Nantucket, Massachusetts, 1998
I find this image supremely challenging – because of other people's reactions to it.
The first time I exhibited this image, over the space of a weekend, in front of this image, four women shared stories of personal loss – a friend, a son, a husband, a father. Over the years, this has happened more than sixteen times Years later, in front of this image, in the same location in the same room, I found myself discussing the death of my first wife with one of the first women to share her own story of personal loss. I could pass this off as coincidence, but that would be irrational. While it sheds a little light on this mystery, Jung's concept of synchronicity furthers rather than solves it. I simply can't explain this. This challenges me – and others. Though largely formed of conjecture, the discussions are interesting. Specific combinations of qualities, universal color codes, sacred geometry, archetypes, intuition, precognition … theories multiply. The mystery remains.
When I made this image I wasn't aware of the themes of death and loss weighing on my mind or heart. I was totally absorbed in making the image. Now, it's almost impossible for me not to think of it, though I can still see much more in this image.
What people share about works of art may change their own and other people's relationships to them. What the artist shares about their relationships to the works of art they create often changes the relationships their viewers strike up with them. This process is often encouraged and sought out. It can work the other way too. What people share about an artist's works of art may change the artist's relationship with his or her own work. While this type of process is less typical, it raises an interesting set of questions to consider, "When, where, and in what ways is encouraging this exchange most beneficial?"
The process of communicating the experiences stimulated by works of art and the results of those interactions, which continue spreading in many ways, often producing both intended and unintended consequences, is part of the life of a work of art. Though not entirely in the control of the artist, it is not separate from the work of art. Works of art connect us in unique ways.
It's interesting that the amount of energy imbued in a work of art is not limited to the amount of energy invested by the artist, more is added through others' experiences of them. How strongly a work of art does this is one criteria, among many, for evaluating its quality and success.
How many ways can you encourage meaningful discussion about your images?
How many ways can you seek useful feedback about your images?
How many ways can you give yourself useful feedback about your images?
Find out more about this image here.
View more related images here.
Read more The Stories Behind The Images here.