New Image – Inhalation VI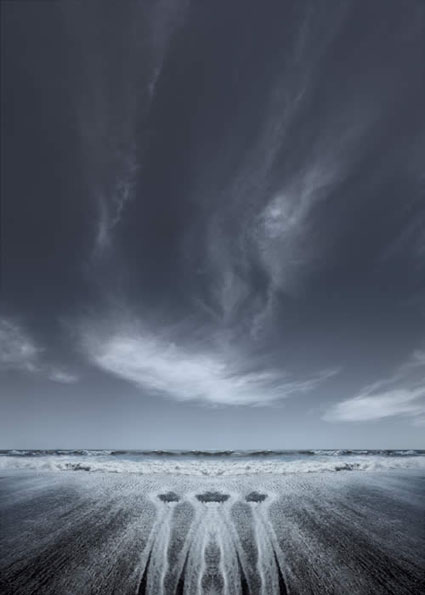 The patterns found in a majority of my images were created by nature. Yet the surfaces in these pictures are not untouched by me. I have influenced them all: by selection of moment; by choice of perspective; by use of tool; by inclusion and exclusion with the picture frame; by further eliminations from and additions to what remains within the picture frame; by changing proportion; by orchestrating color; by creating symmetries; etc. I consider all of these opportunities to collaborate with the hand of nature.
With growing frequency, traces of my physical presence are displayed in my images. Sometimes I set things on fire. Sometimes, I push and pull smoke with my breath. Sometimes, I toss ash in the air. At other times, I create ripples in water. In this case, the circles and trails in the receding foam were created by placing my feet in the pulsing surf.
I prefer that the marks I make in nature remain ephemeral. In this way, the next person who experiences the same location I was in, is free to experience it in their own ways. If we're lucky, we may even be able to compare our experiences. The only durable mark I leave in my process is the photograph itself.
The impulse to acknowledge my involvement in every moment and create something beautiful from it, has been growing stronger and stronger within me.
View / read more here.