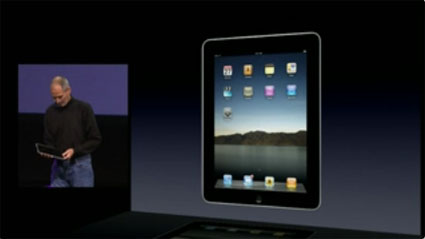 "The last time there was this much excitement about a tablet, it had some commandments written on it." The Wall Street Journal
Steve Jobs lead the Apple's Special Event (yesterday) announced the iPad, designed to fill the gap between a laptop and a smartphone.
He also offered interesting perspective in the first few minutes of his presentation.
"Apple is a mobile devices company. That's what we do … Apple is the largest mobile devices company in the world now."
250,000,000 iPods sold to date
284 retail stores with 50,000,000 visitors last quarter.
App Store offers 140,000 applications, 3 billion downloads in 18 months.
$15.6 billion revenue.
iPods, iPhones, Macs.
Watch the 1.5 hour long video here.
Job's unveils iPad 9 minutes in (after the overview, before the iPad demos).