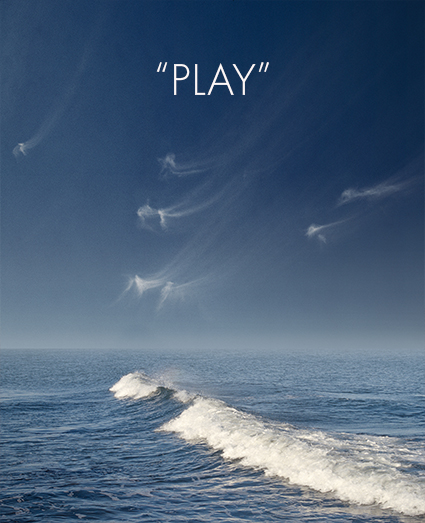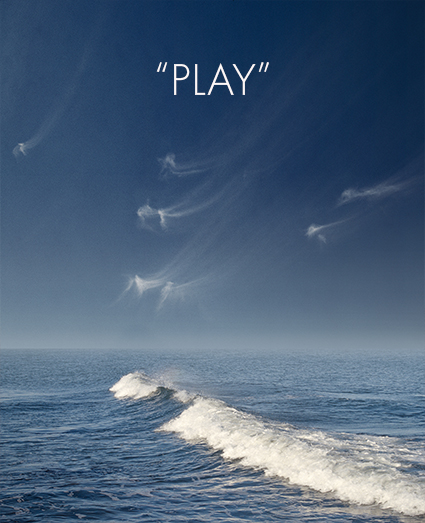 "Life is the game that must be played." – Edwin Arlington Robinson
"Look closely and find subtle ways to play in your work. Play breaks up the burden of labor and gives it ananda – deep meaningful joy." – Thomas Moore
"A person might be able to play without being creative, but he sure can't be creative without playing." — Kurt Hanks and Jay Parry
"You can discover more about a person in an hour of play than in a year of conversation." – Plato
"It is in playing, and perhaps only in playing, that the child is free to be creative." – D W Winnicott
"We all operate in two contrasting modes, which might be called open and closed. The open mode is more relaxed, more receptive, more exploratory, more democratic, more playful and more humorous. The closed mode is the tighter, more rigid, more hierarchical, more tunnel-visioned. Most people, unfortunately spend most of their time in the closed mode. Not that the closed mode cannot be helpful. If you are leaping a ravine, the moment of takeoff is a bad time for considering alternative strategies. When you charge the enemy machine-gun post, don't waste energy trying to see the funny side of it. Do it in the "closed" mode. But the moment the action is over, try to return to the "open" mode—to open your mind again to all the feedback from our action that enables us to tell whether the action has been successful, or whether further action is need to improve on what we have done. In other words, we must return to the open mode, because in that mode we are the most aware, most receptive, most creative, and therefore at our most intelligent." — John Cleese
"Creative people are curious, flexible, persistent, and independent with a tremendous spirit of adventure and a love of play." – Henri Matisse
"Necessity may be the mother of invention, but play is certainly the father." – Roger von Oech
"Children learn as they play. Most importantly, in play children learn how to learn." – O Fred Donaldson
"It is paradoxical that many educators and parents still differentiate between a time for learning and a time for play without seeing the vital connection between them." – Leo F. Buscaglia
"The more I want to get something done, the less I call it work." – Richard Bach
"Children need the freedom and time to play. Play is not a luxury. Play is a necessity." – Kay Redfield Jamison
"Play is training for the unexpected." – Marc Bekoff
"Whoever wants to understand much must play much." – Gottfried Benn
"Deep meaning lies often in childish play." – Johann Friedrich von Schiller
"A child who does not play is not a child, but the man who does not play has lost forever the child who lived in him." – Pablo Neruda
"When we come together to play and be we are truly ourselves When we are truly ourselves it is wonderful and when we act collectively in that wonder we do transformative work for our community and our world." – Brad Colby
"Too much of our work amounts to the drudgery of arranging means toward ends, mechanically placing the right foot in front of the left and the left in front of the right, moving down narrow corridors toward narrow goals. Play widens the halls. Work will always be with us, and many works are worthy. But the worthiest works of all often reflect an artful creativity that looks more like play than work." — James Ogilvy
"Almost all creativity involves purposeful play." – Abraham Maslow
"Sometimes you have to play a long time to be able to play like yourself." – Miles Davis
"Don't play the saxophone. Let it play you." – Charlie Parker
"To the art of working well a civilized race would add the art of playing well." – George Santayana
"If you must play, decide on three things at the start: the rules of the game, the stakes, and the quitting time" – Chinese Proverbs
"There is work that is work and there is play that is play; there is play that is work and work that is play. And in only one of these lies happiness." – Gelett Burgess
"Work and play are words used to describe the same thing under differing conditions." – Mark Twain
"A child loves his play, not because it's easy, but because it's hard." – Benjamin Spock
"Man is most nearly himself when he achieves the seriousness of a child at play." – Heraclitus
"Life must be lived as play." – Plato
Find more Creativity Quotes here.
Discover more quotes daily in my Twitter and Facebook streams.