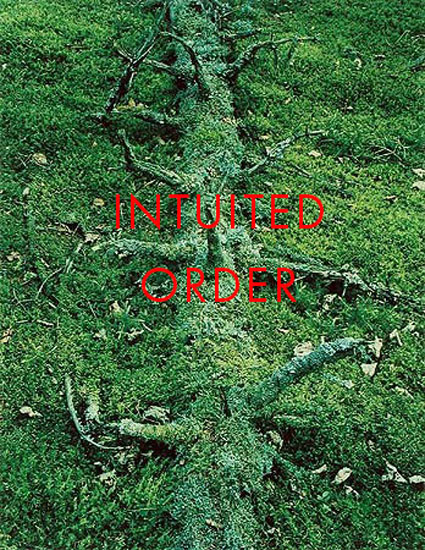 Complexity
Intuited Order
Eliot Porter saw a more complex geometry in nature.
All types of artists look closely at their influences; particularly as they're finding their own voice, or at key stages in their creative development, for many, it's a lifelong process. The comparisons and contrasts are illuminating and inspiring. You can get more out of this process if you simply state the nature of an influence in one sentence, one phrase, and one word.
Doing this will help you to both better understand and more effectively communicate the nature of your influences. Usually, this doesn't happen instantly. First, it takes identifying who or what the influence is. You probably have so many influences that you'll want to choose the ones that are most important to you to develop. Which are those? If all you do is identify this, your time will be well spent. Go a little further and you'll get more benefits. Take a little time to uncover your thoughts about an influence; associate freely. Finally, take a little time to edit what you've gathered; cutting the words that aren't quite right, keeping the ones that are, and searching for even better ones. Very often, the connections between ideas and feelings and their progressions won't be clear until you start organizing them, but once you see them you'll find new windows into your own work.
With this kind of writing, single words, word pairs, phrases, unfinished sentences, lists, outlines, and mind maps are more effective. Make it personal. Don't worry about being judged and don't judge yourself. Forget perfect. Don't let spelling or grammar or penmanship be an issue; start, flow, and keep moving freely.  This is your inner laboratory – and the only way to grant access to yourself is to use words. The goal of this kind of writing is discovery and clarity, not publication. Later, some of the material you gather during this process may ultimately lead to words you can use in conversations, interviews, and statements. Once you make your discoveries, you get to decide what's better left unsaid … but you can only do that after you've found out what you have to say.
When you're exploring your influences ask yourself a lot of questions. Questions guide exploration. Try these questions …
What is the essence of the influence?
Is it physical?
Is it emotional?
Is it intellectual?
Is it the whole thing or few particular things?
If it's many things at once, what is the relative weight of each of those things?
Does one influence share elements or qualities with other influences?
… but don't stop here. Keep going.
At first, it might seem strange to generate a lot of information only to boil it down to a little, but if you try this you'll find that the insights you're left with will be more concentrated, help give you more focus, and be easier to act on. Simplicity has many advantages, not the least of which is simple things are easier to remember and easier to share. Never confuse simple-mindedness with simplicity. Simplicity often represents the height of sophistication, arrived at only after practice. If you can present a complex subject in a simple way without sacrificing essential content, you truly understand it.
Consciously consider your influences. You're choosing what's most important to you and how best to express that. (Sounds a little like making art.) When you do, you'll understand and appreciate them better – and your own works too.
Read Why Tracking Your Influences Is So Important here.
Read Ranking Your Influences here.
Find out more about my influences here.