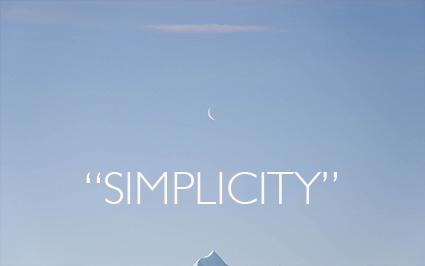 Here's a collection of my favorite quotes on Simplicity.
"Life is really simple, but we insist on making it complicated." ― Confucius
"Our life is frittered away by detail. Simplify, simplify." ― Henry David Thoreau
"Simplicity is about subtracting the obvious and adding the meaningful." ― John Maeda
"The ability to simplify means to eliminate the unnecessary so that the necessary may speak." – Hans Hofmann
"Any intelligent fool can make things bigger, more complex, and more violent. It takes a touch of genius — and a lot of courage to move in the opposite direction." ― E.F. Schumacher
"Clutter and confusion are failures of design, not attributes of information." – Edward Tuft
"Simplicity does not precede complexity, but follows it." – Alan Perlis
"Knowledge is a process of piling up facts; wisdom lies in their simplification." – Martin H. Fischer
"That's been one of my mantras – focus and simplicity. Simple can be harder than complex: You have to work hard to get your thinking clean to make it simple. But it's worth it in the end because once you get there, you can move mountains." – Steve Jobs
"Simplicity is the outcome of technical subtlety. It is the goal, not the starting point." – Maurice Saatchi
"The aspects of things that are most important for us are hidden because of their simplicity and familiarity." – Ludwig Wittgenstein
"The main purpose of science is simplicity and as we understand more things, everything is becoming simpler." – Edward Teller
"The simplest things are often the truest." – Richard Bach
"A vocabulary of truth and simplicity will be of service throughout your life." – Winston Churchill
"Truth is ever to be found in the simplicity, and not in the multiplicity and confusion of things." ― Isaac Newton
"Nature is pleased with simplicity. And nature is no dummy" ― Isaac Newton
"As I grew older, I realized that it was much better to insist on the genuine forms of nature, for simplicity is the greatest adornment of art." – Albrecht Durer
"I am not a genius, I am just curious. I ask many questions. and when the answer is simple, then God is answering." ― Albert Einstein
"Everything should be made as simple as possible, but not simpler." – Albert Einstein
"The greatest ideas are the simplest." ― William Golding
"There is no greatness where there is not simplicity, goodness, and truth." ― Leo Tolstoy
"Nothing is more simple than greatness; indeed, to be simple is to be great." ― Ralph Waldo Emerson
"To me, the extraordinary aspect of martial arts lies in its simplicity. The easy way is also the right way, and martial arts is nothing at all special; the closer to the true way of martial arts, the less wastage of expression there is." – Bruce Lee
"Simplicity is the ultimate sophistication." ― Leonardo da Vinci
"Beauty of style and harmony and grace and good rhythm depend on simplicity." – Plato
"Simplicity is the glory of expression." – Walt Whitman
"In character, in manner, in style, in all things, the supreme excellence is simplicity." – Henry Wadsworth Longfellow
"It is vain to do with more what can be done with less." – William of Occam
"Simplicity and repose are the qualities that measure the true value of any work of art." – Frank Lloyd Wright
"Simplicity is the final achievement. After one has played a vast quantity of notes and more notes, it is simplicity that emerges as the crowning reward of art." – Frederic Chopin
"Simplicity is not an objective in art, but one achieves simplicity despite one's self by entering into the real sense of things." – Constantin Brancusi
"The more simple we are, the more complete we become." ― August Rodin
"One day I will find the right words, and they will be simple." ― Jack Kerouac
View The Essential Collection of Creativity Quotes here.
Discover more quotes daily in my Twitter and Facebook streams.