Iceland – Always Try New Things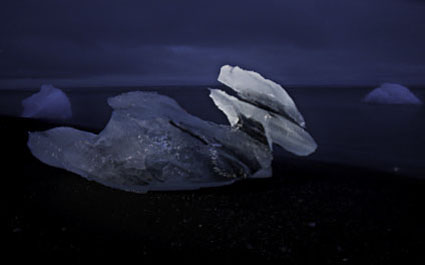 Photographer Ragnar th Sigurdsson loves to use studio lighting on location. It's one of his trademarks.  He showed me how he does his magic at midnight on Iceland's Jokullsarlon or glacial lagoon, a 10 kilometer lagoon chock full of icebergs that pour out into the sea. With simple portable strobes and flashlights we lit up dozens of icebergs, painting light on incredible forms in the middle of the night at a truly fantastic location. It was truly exciting. And the company simply can't be beat.
Ragi's scheduled a repeat performance for all of the participants in my Focus on Nature workshop tonight at midnight. Hopefully none of them will check my blog before then because it's a surprise. It's just one of many we have in store for them this week.
Wow! I'm still saying wow! Because of one evening, I'm thinking about light differently now.
Get priority status in my 2010 Iceland workshop.
Email info@johnpaulcaponigro.com.