Sean Kernan's new book won't tell you what to see, but it can show you new ways to look.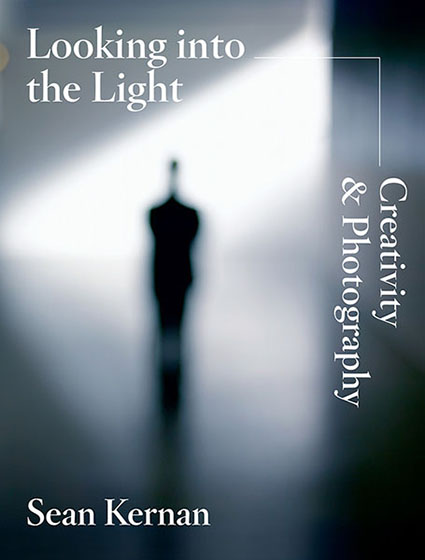 "Years ago I stumbled on what felt like a secret door into creativity in photography. The secret is that photographers don't need to hope that creativity will turn up. It's there in us. Creativity is not something we do, it's something we are…all the time." says Kernan.
"Sean Kernan has spent more than 30 years investigating ways that photographers find and use creativity. And all that insight now fills a workshop-in-a-book, Looking into the Light: Creativity and Photography, now available as an iBook.
Kernan's book offers ways to get to that creativity for photographers at every level, bright beginner to jaded professional. It looks past cameras and technique to focus on our awareness. "We work on our awareness of all the things that happen before the click, which I'm convinced is where the wonder of our best seeing comes from."
The book gives a series of concrete assignments that stimulate the visual imagination and change our pictures. The sign that they're working is when we get a hit of the excitement we felt the first time we took a photograph that was way beyond anything we thought we could do.
The exercises are gathered from many areas—music, theater, writing—and they all involve simple things we already know how to do. We can use them to make better photos, or just to see more deeply into what is around us. The goal is to make pictures that talk to the world, not just to other photographers. As Jay Maisel put it, "You want to take more interesting pictures? Be a more interesting person!"
Looking into the Light illustrates the exercises with work from a distinguished group that includes John Paul Caponigro, Greg Heisler, Cig Harvey, Jay Gould, Dennis Darling, Adam Arkin, poet Gregory Orr, Ed Young, Paul Cezanne, Edgar Degas, Sol LeWitt, William Kentridge, and Sir Joshua Reynolds. There's an iconoclastic essay on portraits by Duane Michals and links to interviews with Duane and Robert Frank.
To support reader's efforts, the author has created a companion website at www.lookingintothelight.com, where readers can find further articles, watch instructive videos, and upload and share their own work on the assignments."
Read 20 Questions with Sean Kernan here.