How A Just Few Words Can Change Your Perception / Photography – Sean Kernan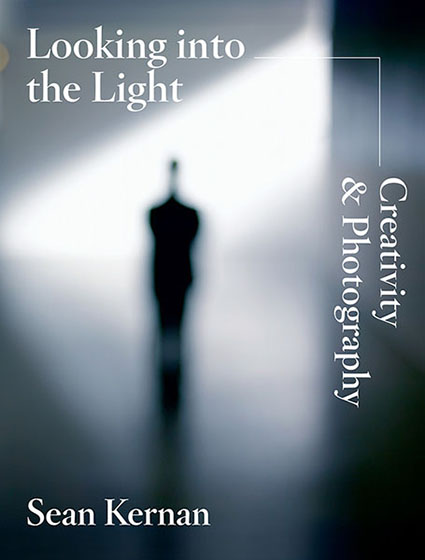 An exercise too late for the book Looking Into The Light.
"I write to find out what I have to say." Charles Wright
That's how creativity works. You can try to conceptualize it all you want, but when you begin, it starts to come out completely different … if your lucky. Even if you do it all wrong, you learn more than you ever would by thinking.
That's why exercises function as the heart of my workshops, and new ones occur to me all the time, so many that I never get to a fraction of them in a class.
The best of them literally take you beyond yourself. When that happens, you suddenly wake up way past whatever it was you thought you were going to do.  You're like a kid who is learning to ride a bicycle and looks back to see the parent you thought was running beside you and steadying you standing 50 yards back and grinning. And you realize that you've been riding your bike and balancing just fine on your own.
That's what I want out of an exercise.
This summer an idea came to me in the middle of a workshop. I told people to go out, wander around, and make photographs of a place where something had happened. That was it.
My thought was that at least it might get people to really pay attention and just be where they were, see the light, the energy, see what the place felt like. Then they could make some pictures.
So off they went to spend a rainy afternoon working this out, and the next morning we gathered to screen the pictures. When the first ones came up I got a surprise. People had actually written down the thing that they felt might have happened. And the things they had written down completely charged the pictures, and ignited the classes imaginations. They were like short clips from films, and they made you want to see the rest of it.
Here's one. You'll see what I mean.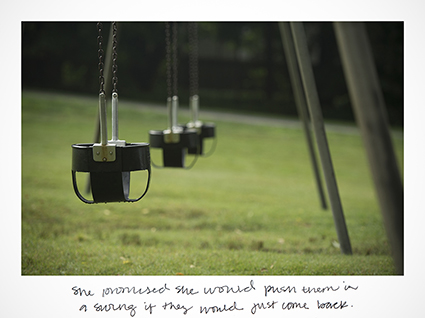 Michelle Elloway
I think this one with the swings was the first up, and the menace and sadness that grew out of the picture of these children's playthings was palpable. Everyone felt the dark possibilities in it.
Here are a few more …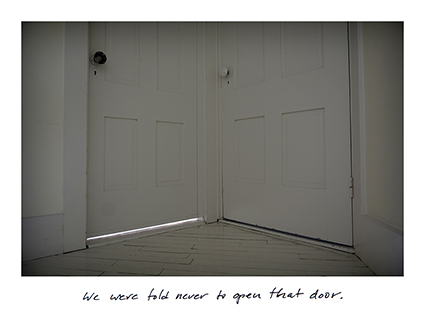 Antelo Devereux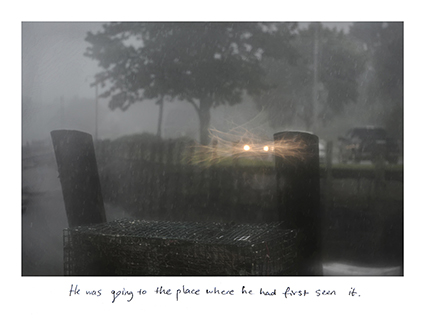 Kemal Berk Kocabagli
What I loved about what people did was that they took ordinary situations into their imaginations and made the pictures suggest stories without telling them. They left plenty of space for viewers to complete them in their own minds.  We all became participants.
So there it is, the perfect kind of exercise. It was kind of like finding a mushroom with a note that said Eat me. Whenever that happens … eat the mushroom!
Find out more about Sean Kernan's ebook Looking Into The Light here.
Find out more about Sean Kernan here.