JPC on thirdeyephotozine.com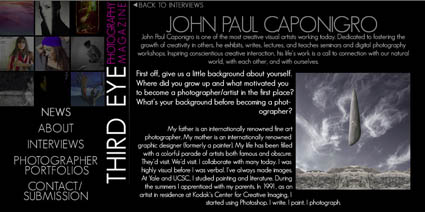 Recently Rayhaan Traboulay interviewed me for his online magazine thirdeyephotozine. Here's an excerpt.
RH I recently had a discussion with a friend about creativity within people. I
find that people either generally "have it" or don't. I believe that you
can't really teach it too much. Theres room for improvement and critiques
and so on, but I find it is either innate in someone or it's not. Would you
agree or no?
JPC I disagree – strongly. To be a successful creative person in any field, it
takes perseverance, intelligence, hard work, skill, talent, and luck – in
that order. Everyone is creative. Different people have different creative
strengths. It helps to find the areas each of us are strongest in and to
develop skills within other areas to become more versatile. Creativity is
not contained to the arts. Some of the most creative people in history and
with us on the planet today work in the fields of science and business. We
all have something to offer. And something to learn from each other.
Do you think you can learn to be more creative? Comment here!
Read the rest of the interview here.
Read more interviews here.
Read and hear my comments on my images here.
Find free PDFs on making artist's statements here.
Hear my free tips on becoming more creative here.
See my images and get free portable galleries here.