Alumn Olaf Willoughby On Collaboration & Creativity 1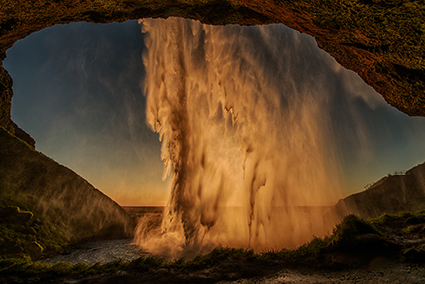 Olaf Willoughby
The Creative Space, Part One
Imagine yourself in a favourite photo location. Maybe for you that is Street shooting in Bangkok or Brooklyn. Or for this post I've chosen a beautifully backlit waterfall in Iceland. You excitedly pull out your camera and start shooting. You already know that you'll get at least some good images. You smile inside at the expectation of processing, posting and printing. Right. Job done. Where to next?
This is a well trodden path which produces some great images and good friendships. But this time let's not rush off. Instead let's pause, rewind and consider some alternative scenarios. Consider that location as an empty 'creative space' waiting to be filled with an interpretation.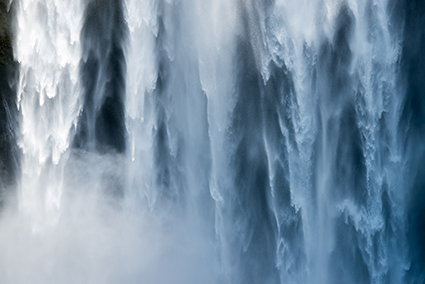 Now imagine a painter walks into that scene. How would she see the light, the movement and the colours? She has the advantage of being able to add and subtract elements on the spot whereas photographers can mostly only do that in post processing. Which elements might she accentuate and how?
Now rewind and imagine a poet enters the same creative space. He has more leeway to convey the full sensory impressions; the deafening sound of the waterfall and the delicate touch of the spray. The poet might consider how in Iceland it is easy to feel a deep connection to the elemental forces of nature. How trolls might live in the rocky recesses of the mist covered mountains. Is there a photographic equivalent to this kind of inspiration?
Finally, rewind again and imagine you are a composer entering the space. What kind of mood could you conjure up with the full complement of musical instruments at your disposal, ? How do you capture the majesty of a landscape? As Gustav Mahler said when a colleague enthused about the view of the lake and mountains from his cabin at Attersee in Austria, 'Don't bother looking at the view – I have already composed it'. How can we approach a fuller sense of the potential of the scenes in front of our cameras?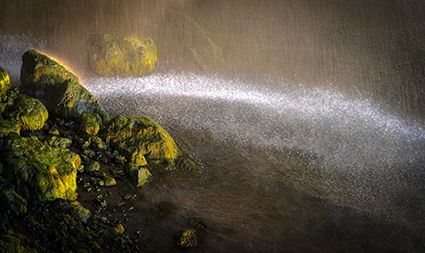 You get the point. When we are in our personal photographic creative spaces we are seeing only one small part of the creative whole. A good analogy would be our eyesight where visible light is only a small part of the total electromagnetic spectrum, only one version of reality. There is more to be seen.
Similarly each of the artists above will interpret the magic of that creative space in very different ways. Whilst this is a simple point to understand intellectually, very few of us are skilled in a variety of artistic disciplines. So to expand into any of these spaces seems in practice almost impossible.
And this is one of the much debated issues in photography as an art form. The instrument itself is quite limited. Yes we can stray into impressionism with camera movement, into the surreal with multiple exposures and blend modes and into metaphor with 'equivalents' (http://www.moma.org/ collection/works/44200?locale=en)
But these are 'technical' solutions and only slightly change how we think about and see our images. So how can we bring some of that artistic inspiration available to other disciplines, back into photography? How can we enlarge the creative spaces we inhabit to energise our work?
There is a way that Eileen McCarney Muldoon and I have developed and teach in our workshop, 'Visual Conversations'. The principles are covered in part two of this post to be published next weekend.
Meantime if you'd like more information on the workshop please check here:
Visual Conversations
July 10th – 16th, Maine Media College, Rockport, USA
Aug 23rd – 25th, Leica Studio, London, UK