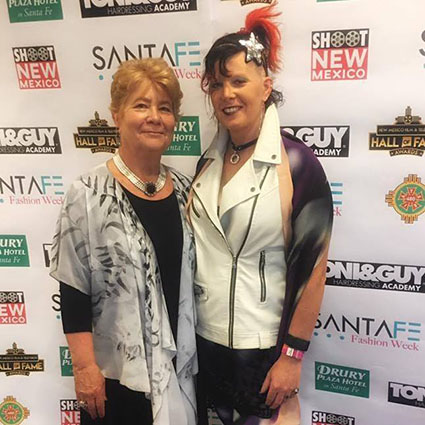 This summer, two of John Paul Caponigro's Next Step Alumni, Kathy Beal  and April Hartford completed cornerstone projects in Santa Fe, and their success was enhanced by their support of each other.
–
The second week in June, Kathy Beal debuted her new active wear line, "Embodywear Fashions – Fit For Your Inner Goddess", on the runways of Santa Fe Fashion Week. Her assistant for the event – April Hartford. Kathy reflected "it was getting close to show time, and I'd been so focused on getting the
Kathy reflected "it was getting close to show time, and I'd been so focused on getting the new product in and the website launched, that I neglected to look for an assistant to help me out during the three-day show. So I sent a last minute text to April, and she replied almost immediately – absolutely, I'll be there! Really, I couldn't have pulled it off without her help." One benefit for April – she got to be one of the first to try on Kathy's new fashions! Here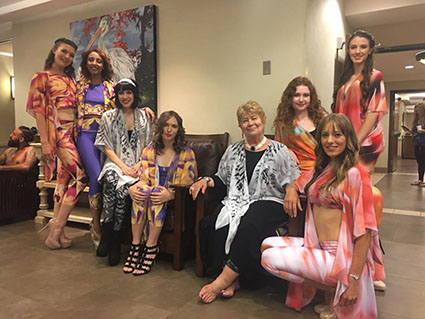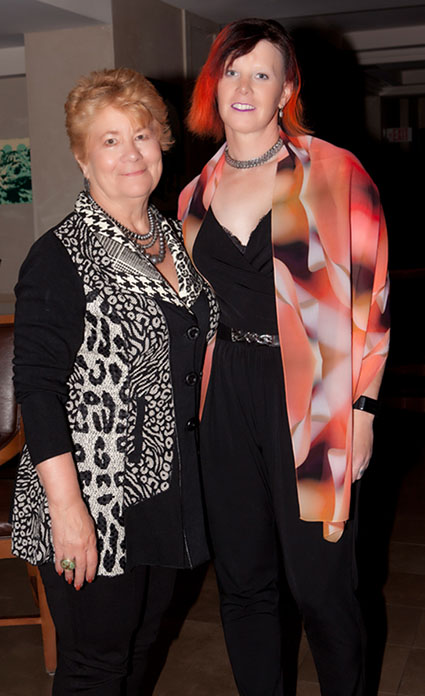 In mid-July, April Hartford was busy preparing for her opening "Transgender, One Person's Journey" an exhibition of not only her incredible photographs portraying her journey, but some of the best educational materials available today for the transgender community. Shortly before her opening, she went to Kathy's studio to put together a few outfits to wear during the exhibition and Embodywear Fashions quickly became a sponsor for April's exhibit.
April shared, "Kathy has been instrumental in both feedback of my images and exhibition set up. One issue I face with such a personal story being laid out for all to see is a sense of protection. Wearing outfits designed by such a special friend helps ground me when at my studio. Though our work is so different, we come together through shared experiences and friends helping each other move past any obstacles or stumbling blocks in our paths."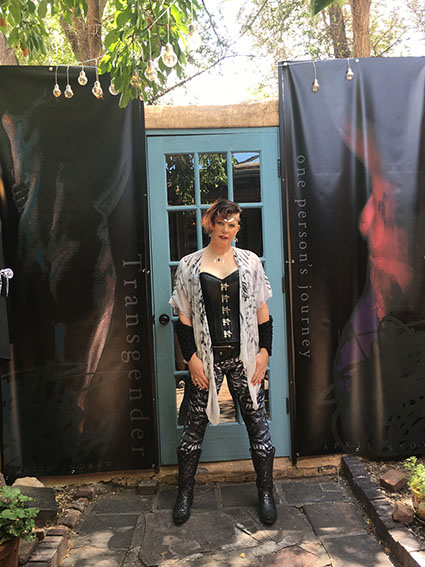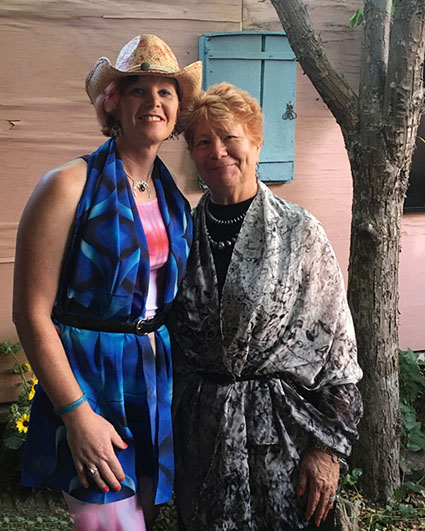 Magic really does happen when artist's get together!
–
If you're in Santa Fe, New Mexico …
Experience April's exhibit thru October 7, 2017.
Transgender, One Person's Journey
April Hartford Studio
539 Old Santa Fe Trail
Santa Fe, NM
Open for public viewing Tuesday's, Friday's, and Saturday's from 1-6pm through October 7, 2017
April@aprilhartford.me
Tour the studio virtually here.
Learn more about April Hartford here.
–
Contact Kathy for a tour of her studio and an expert fitting for your own at Embodywear Fashions!
Kathy@kathybeal.com
Visit Embodywear Fashions by Kathy Beal.
Like Embodywear Fashions on Facebook.