NAPP – Adobe Photoshop Lighroom 2 Learning Center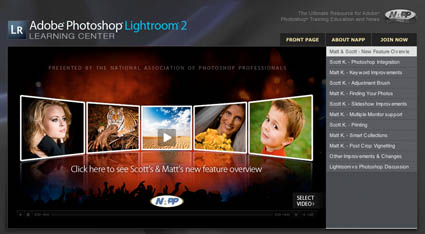 10 Reasons to upgrade to Lightroom 2.
Scott Kelby and Matt Koslowski detail 10 reasons to upgrade in their free online videos.
1    New feature overview
2    Photoshop Integration
3    Keyword Improvements
4    Adjustment Brush
5    Finding Your Photos
6    Slideshow Improvements
7    Multiple Monitor Support
8    Printing
9    Smart Collections
10  Post Crop Vignetting
Look closely at the Lightroom vs Photoshop discussion (bottom of right menu topics).
It's well worth a visit!
Check it out here.
Learn Lightroom 2 and CS4 in my workshops.
Check out my DVDs here.
Seen it? Like it? Comment here!