25 Great Quotes On Technique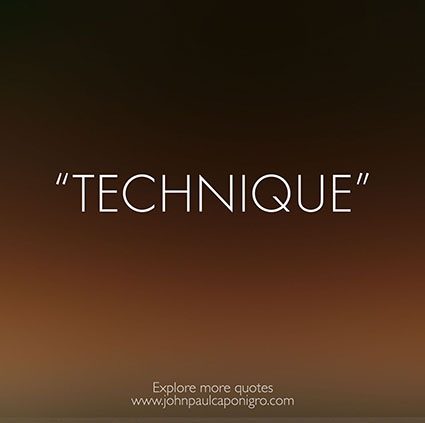 Enjoy this collection of quotes on Technique.
"You can practice shooting eight hours a day, but if your technique is wrong, then all you become is very good at shooting the wrong way. Get the fundamentals down and the level of everything you do will rise." – Michael Jordan
"Technique is communication: the two words are synonymous in conductors." Leonard Bernstein
"I'm really very concerned with helping to create an attitude of freedom and daring toward the craft of photography." – Jerry Uelsmann
"With practice the craft will come almost of itself, in spite of you and all the more easily if you think of something besides technique." – Paul Gauguin
"The value of music is not dazzling yourself and others with technique." – Herbie Hancock
"Great dancers are not great because of their technique, they are great because of their passion." – Martha Graham
"You can't learn techniques and then try to become a painter. Techniques are a result." – Jackson Pollock
"It doesn't make much difference how the paint is put on as long as something has been said. Technique is just a means of arriving at a statement." – Jackson Pollock
"Technique is really personality. That is the reason why the artist cannot teach it, why the pupil cannot learn it, and why the aesthetic critic can understand it." Oscar Wilde
"Tools and techniques ought to be an extension of consciousness, but they can just as easily be a protection from consciousness. Then the tools become defence mechanisms… against the unconscious." – Rollo May
"Some of my photographs have always been a mystery to me in terms of how I arrived at them. Even with the technical ability to produce fine prints, I am hard put to know how it happens, yet unless technique and materials are seriously investigated and experienced, I see that moving statements are seldom made. The process of photography ever invites me. I hope never to lose this feeling. At times I make photographs for the sheer magic of its process, and the good feeling about the very stuff needed: light, chemical combinations, some imperceptible forces at work behind the scene. I am part of the drama which takes the guise of photography." – Paul Caponigro
"I do not object to retouching, dodging. or accentuation as long as they do not interfere with the natural qualities of photographic technique." – Alfred Stieglitz
"It is rather amusing, this tendency of the wise to regard a print which has been locally manipulated as irrational photography – this tendency which finds an esthetic tone of expression in the word faked. A MANIPULATED print may be not a photograph. The personal intervention between the action of the light and the print itself may be a blemish on the purity of photography. But, whether this intervention consists merely of marking, shading and tinting in a direct print, or of stippling, painting and scratching on the negative, or of using glycerine, brush and mop on a print, faking has set in, and the results must always depend upon the photographer, upon his personality, his technical ability and his feeling. BUT long before this stage of conscious manipulation has been begun, faking has already set in. In the very beginning, when the operator controls and regulates his time of exposure, when in dark-room the developer is mixed for detail, breadth, flatness or contrast, faking has been resorted to. In fact, every photograph is a fake from start to finish, a purely impersonal, unmanipulated photograph being practically impossible. When all is said, it still remains entirely a matter of degree and ability." – Edward Steichen
"Photography is a medium of formidable contradictions. It is both ridiculously easy and almost impossibly difficult. It is easy because its technical rudiments can readily be mastered by anyone with a few simple instructions. It is difficult because, while while the artist working in any other medium begins with a blank surface and gradually brings his conception into being, the photographer is the only image maker who begins with the picture completed. His emotions, his knowledge, and his native talent are brought into focus and fixed beyond recall the moment the shutter of his camera has closed." – Edward Steichen
"Let us first say what photography is not. A photograph is not a painting, a poem, a symphony, a dance. It is not just a pretty picture, not an exercise in contortionist techniques and sheer print quality. It is or should be a significant document, a penetrating statement, which can be described in a very simple term-selectivity.' – Berenice Abbott
"All the technique in the world doesn't compensate for the inability to notice." – Elliott Erwitt
"Of course, there will always be those who look only at technique, who ask 'how', while others of a more curious nature will ask 'why'. Personally, I have always preferred inspiration to information." – Man Ray
"Technique is noticed most markedly in the case of those who have not mastered it." – Leon Trotsky
"The most perfect technique is that which is not noticed at all." – Pablo Casals
"The more technique you have, the less you have to worry about it. The more technique there is, the less there is." –
Pablo Picasso
"Technique is what you fall back on when you run out of inspiration." – Rudolf Nureyev
"Remember… you are expressing the technique, not doing the technique." – Bruce Lee
"And there is a time where you can be beyond yourself. You can be better than your technique. You can be better than most of your usual ideas. And this is a whole other category that you can get into." – Dave Brubeck
"Art is technique: a means by which to materialize the invisible realm of the mind." — Hiroshi Sugimoto
"Method is much, technique is much, but inspiration is even more." – Benjamin Cardozo
Explore The Essential Collection Of Creativity Quotes here.
View The Essential Collection Of Creativity Videos here
Discover more quotes in my social networks.