The Best Videos On Creativity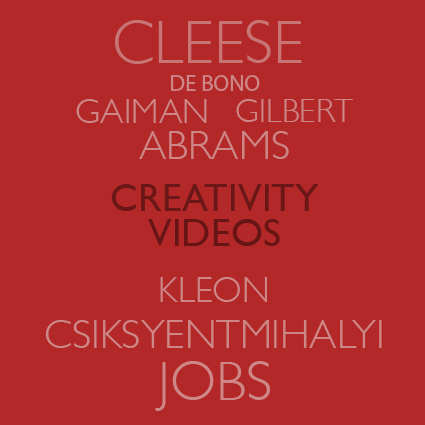 This growing collection of videos on creativity includes content from many fields – photographers, writers, musicians, scientists and kids. Use this list to dive into what I think is the most fascinating field. Check back in the future for new additions to this list.
With so many great videos to choose from where do you start?
My top picks are red.
Ray Bradbury – Telling The Truth
Julie Burstein – 4 Lessons In Creativity
Tim Brown – Tales Of Creativity And Play
Ben Cameron – The True Power Of The Performing Arts
John Paul Caponigro – You're More Creative Than You Think
Candy Chang – Before I Die I Want To
Mihaly Csikszentmihalyi – On Flow
Edward De Bono – 5 Videos On Thinking Creatively
Nancy Duarte – The Common Structure Of The Greatest Communicators
Kirby Ferguson – Embrace The Remix
Neil Gaiman – Finding Your Life In Art
James Geary – Metaphorically Speaking
Elizabeth Gilbert – Nurturing Creativity
Robert Greene – Creative Mastery
Sheena Iyengar – The Art Of Choosing
Steve Jobs – How To Live Before You Die
Stephen Johnson – Where Good Ideas Come From
David Kelley – How To Build Your Creative Confidence
Austin Kleon – Steal Like An Artist
Charles Limb – Your Brain On Improv
Beau Lotto – Science Is For Everyone, Kids Included
Bobby McFerrin – On Improvisation
Kerry Mullis – Celebrating The Experiment
Chris Orwig – Getting Better At Photography Fuels Innovation
Howard Rheingold – On Collaboration
Matt Ridley – When Ideas Have Sex
Sir Ken Robinson – Education Revolution
Andrew Stanton – Clues To A Great Story
Adora Svitak – What Adults Can Learn From Kids
Amy Tan – Where Does Creativity Hide ?
Don Tapscott – Four Principles For The Open World
Julian Treasure – 5 Ways To Listen Better
Benjamin Zander – Music And Passion