The Art of Visual Storytelling – Sarah Leen & John Paul Caponigro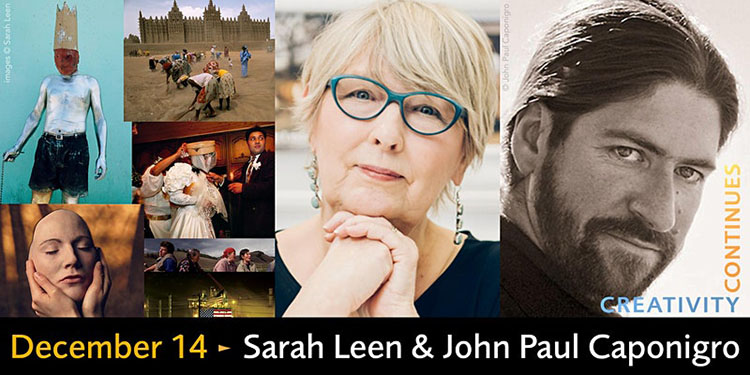 .
Tuesday, December 14, 2021 – 6:00-7:00 pm (Mountain Time)
.
Creativity Continues at Santa Fe Workshops with The Art of Visual Storytelling, a conversation between photo editor Sarah Leen and photographic artist John Paul Caponigro.
During this informative and captivating hour, Sarah and John Paul discuss personal projects and how they often lead us deeper into creativity and to our greatest growth both personally and professionally. But how do you start and sustain them towards completion?
Sarah and John Paul dive deeply into the craft of visual storytelling, essential skills for every photographer that will inspire a lifetime of creative exploration. Through the fine art of deliberate image selection, you can transform a collection of photographs into a compelling, dynamic narrative. Join them to learn strategies for choosing, combining, and sequencing diverse images into cohesive bodies of work for presentation online, in print, or for exhibition. We'll celebrate personal projects as our best way to discover and develop our authentic visual voices. You'll see real-world examples and hear the stories behind them that are sure to inspire you. This program finishes with a lively question and answer session open to all participants.
Join Santa Fe Workshops worldwide community of photographers and writers as Creativity Continues this fall.