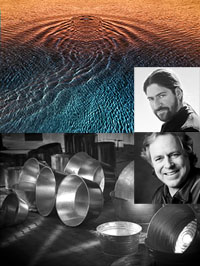 You can learn from two master digital print makers at the same time, fresh off their highly successful tour in the Epson Print Academy, in The Fine Art of Digital Printing workshop. It's the chance of a lifetime.
The Fine Art of Digital Printing workshop with John Paul Caponigro and Mac Holbert (supported by Epson) returns in 2009 after four highly successful events. August 31 – September 4 and October 26 – 30 at the Brooks Institute of Photography in Santa Barbara, CA. Space is limited to 24 participants and made available on a first-come-first-serve basis. The event was so popular in 2008 and 2009 it sold out within days.
Visit thefineartofdigitalprinting.com to learn more and to sign up for the workshop or waiting list.
Schedule
Seminar style sessions are run morning, afternoon, and evening with breaks only for lunch and dinner.

Topics covered include …
Color Management
Proofing
Workflow
Raw Conversion
Noise Reduction
Sharpening
Media Choices
Print Presentation
One-On-One Reviews
And much, much more!
The workshop emphasizes hands on productivity. Late nights are spent in the lab producing work while Mac and JP conduct one-on-one review sessions.
Included with the workshop are John Paul's workshop DVD (packed with exercises, reading, test files, and actions) and Mac and JPs handouts (a binder compiling the best of their years of relevant writings).
This workshop is right for those who want to master digital printmaking and take their digital imaging skills to the next level. This workshop has a strong photographic perspective but is applicable to all types of artists who want to reproduce their work in digital media. Intermediate skill levels with Photoshop are required. Lightroom is covered but not required.
Check out Mac's website with free resources here.
Check out Mac's book here.
Check out Mac's DVD here.
Check out my conversation with Mac here.
Check out my DVDs here.
Check out my free printing PDFs here.
Check out my other Printing workshops here.

Additional Resources
FADP has extraordinary additional resources. The teaching assistants teach their own workshops nationally – Arduina Caponigro (John Paul's wife and right hand woman at Caponigro Arts – acaponigro.com) and Ming Tshing (Mac Holbert's right hand man at Nash Editions – tshing.com). Larry Baca, long time color management expert lectures, consults with each individual participant, and builds profiles for them.
Participant Experience
Drawn from as far as India and England, participant experience is high. Many participants are working professionals. And they rave about the experience.
Syl Arena (working pro)
"Investing a week in the Fine Art of Digital Printmaking workshop is an amazing way to catapult your printmaking skills forward. It's a total immersion program — like Berlitz for photographers. The headliners, Mac Holbert and JP Caponigro, are master digital print makers who continue to advance the leading edge of the craft. FADP is about sharing. Mac and JP are willing to share every bit of knowledge that they possess.The balance of group presentations with one-on-one time with the instructors keeps the flow moving. As a bonus, you never know who will drop in… Henry Wilhelm gave an insightful presentation on the longevity of digital prints. Vinnie Versace punctuated the week with many of his unique insights into the world of photography and digital printmaking. Many of my fellow students were newsworthy photographers from both the commercial and fine art worlds. The cross-polination between classmates and the resulting network of new friends is an asset that remains long after the end of the week. Unlike 9 to 5 workshops, FADP keeps the lab open late every night so there is plenty of time to practice your new skills. The generous support of Epson makes this workshop an incredible value. FADP workshop sells out fast. So if you are thinking about it, stop what you're doing and enroll today."
Bob Killen (working pro)
For me the Fine Art of Digital Printing Workshop was a life changing event. In a week's time I significantly improved my skills and craft as a printer. More importantly my personal insight grew many fold as I learned how to see work flow decisions as creativity strategy not as a tool process. There were many 'ah ha' moments, some head scratching, camaraderie and sharing, but deep down there was a significant change in my thinking, planning, and executing. I left with knowledge, understanding, and most important of all confidence, because four months later my work was selected as the feature gallery show for a National Park Service Gallery in the Mojave National Preserve.  I printed every image in my studio and the sales success has been spectacular. Thanks to JPC, Mac, and the entire team of patient leaders.
Charlotte Bailey Rush (afterwards sold $10,000 in her first show)
FADP is the premier "graduate class" for photographers who want to create prints that achieve fine art quality.  The class concentrates on philosophy as well as technology and technique; John Paul develops the soul as well as the skills of each participant.    I took the course to create the prints I would use in my first one person exhibit and came away with not only a very successful body of work but also a level of self confidence that would normally come with years of professional experience.  In addition to the formal instruction, the interaction with other participants is inspirational and reaffirming.  This class is a must for photographers who want to bring their images to life on paper as well as understand who they are as an artist.
Guest stars
Many guest stars also make appearances, often for the whole week.
Henry Wilhelm made a special presentation in 2007.
Vincent Versace
Rarely, if ever do you get the oppertunity to have a teacher show you something that changes the way think and create. Even rarer is when lightening strikes twice. I have never had workshop experience effect me and my work as profoundly as the workshop taught by John Paul Caponigro and Mac Holbert. I thought I knew what I was doing when I attended the first day, I walk out at the end of the wek knowing more than I thought possible. Let me put it another way…. If you pass on this opportunity to learn from these two master artists then you just a big silly.
Gregory Heisler
As with any endeavor, the first 80% is relatively easy; it's the last elusive 20% that makes all the difference.  I wanted to learn the "secret" to attaining the highest possible level of quality in my digital printing, so  I enrolled in "The Fine Art of Digital Printing," the only workshop personally taught by the two pioneers in the field. Both Mac Holbert and John Paul Caponigro have been recognized as the premier innovators and masters of the medium since its inception.
Mac Holbert essentially invented the medium of digital printmaking as a fine art,  using the predictable and repeatable nature of graphic arts prepress tools available at the time  and bending them to his will. With great finesse and efficiency he continues to produce digitally-generated prints of unparalleled quality.
John Paul Caponigro has not only been a pioneer in the use of digital technology to create and print his own fine art images, but is perhaps the leading educator in the field as well, lecturing, teaching classes, and writing extensively on the subject.
Together, Mac and John Paul cover all aspects of fine art digital printmaking in a logical, easily understood format.  They generously share their time-tested techniques, sure-fire shortcuts and invaluable personal observations while patiently demystifying the process of digital printmaking at its highest level. Yet they never lose sight of the ultimate goal: to realize the vision of the artist. The image remains paramount.
So in the end, there are really only two reasons to take the "Fine Art of Digital Printing" workshop:  Mac Holbert and John Paul Caponigro.
Chris Noble
For those hoping to take their digital print making skills to the cutting
edge and beyond, look no further than the FADP workshops offered by John Paul Caponigro and Mac Holbert the "dream team" of digital photography.  It would be difficult to imagine a duo better suited to slash through today's briar patch of confused and conflicting approaches to fine art printing than Mac and John Paul, but hold on to your hats, with these two, the classroom experience is very much like drinking from a fire hose of vital information.
Epson's Role
Epson has taken a leadership role in helping facilitate unique educational experiences designed to increase the knowledge base and skills of their users to help them get the very best quality from their printers.
Educational Institution's Role
The workshops are held in the industry current labs of today's premier  photographic educational institutions. Caponigro and Holbert know they can rely on the facilities to facilitate the best experience possible for participants. They also want to draw attention to the institutions and individuals that are doing so much for the success of their students.
Teacher participation is encouraged and made available without charge. Caponigro, Holbert, and Epson all hope that this knowledge will be passed  along to aspiring photographers through the finest educators at the finest institutions.
Brooks Institute, with campuses in Santa Barbara and Ventura California, (where the first two workshops were held and the fourth will be held) has been a world  leader in photographic education for 62 years. Brooks Institute has a long established  relationship with Epson, the leader in photographic printing.
David Litschel
Provost David Litschel states that "having John Paul Caponigro and Mac Holbert on the Brooks Institute campus adds immensely to the role of Brooks Institute in  educating the current and the future generation of image makers with the best professional talent in the industry."
Brooks Instiute offers the Master of Fine Art Degree in Photography, the Bachelor of Arts Degree in Professional Photography, more information is available at www.brooks.edu <file://www.brooks.edu> . Brooks Institute has a year-round workshop program for photographers of all skill levels. The Brooks Institute workshop offering are listed on our workshop web site http://workshops.brooks.edu <http://workshops.brooks.edu> .