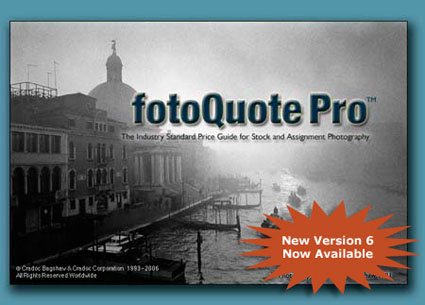 Looking for information on how to price licensing and assignment work?
PhotoQuote Pro is the software I use.
"When someone wants to use one of your photos, you don't need a number pulled out of a hat, you need help to get paid fairly for your work. You need fotoQuote, the industry standard photo pricing guide for stock and assignment photography.
FotoQuote is the only source of photo pricing information for photographers that includes powerful coaching help for every category. FotoQuote not only helps you come up with a fair price for your image license, but it also gives you the negotiation information you need to help you close the sale.
FotoQuote Pro 6 has just been released and it's our biggest upgrade in the almost twenty years since the original version of our photo pricing calculator was written. We've added 86 new categories bringing the total to 304. The new version now includes both still and video stock footage categories, assignment pricing, thumbnails, international currency and much more."
Learn more about PhotoQuote here.
Find more business resources here.
Learn more in my Digital Printing and Pro Portfolio workshops.