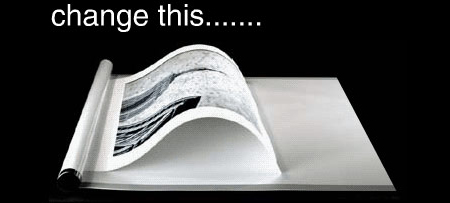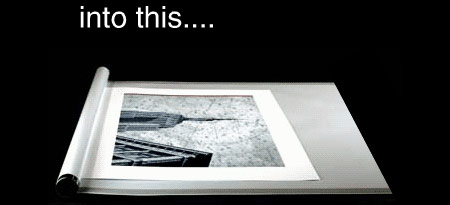 Quickly cure curl in prints made from roll papers with D-Roller.
This device is extraordinarily simple and effective.
You might wonder why a simple plastic tube with an attached sheet of plastic costs as much as it does – 24" $259.99, 36" $279.95, and 50" $299.99. When you see how effective, easy, and fast it is to use you'll realize it's money well spent.
Here's how easy it is.
1 Place a print on the white carrier film near the tube.
2 Roll the tube away from you, wrapping the print between the tube and the film.
3 Hold for a few seconds.
4 Unroll the tube
5 Turn the print 180 degrees and repeat.
6 Remove the flattened print.
Here are a couple of tips for using it.
The longer you hold the paper rolled up the more curl you take out; you can actually reverse the curl if you hold the paper too long.
Paper coming off the outside of the roll requires less derolling than paper coming of closer to the core.
Low humidity requires more derolling.
Non-rag papers require more derolling.
Though the very smooth plastic won't damage print surfaces, you can include a cover sheet in the derolling process for exceptionally delicate materials.
Special rollers can be custom ordered for very long prints.
Is it really that simple? Yes!
Does it really work? Yes!
Visit inkjetart.com for more information.
Read more about the tools I use here.
Learn more in my digital photography and digital printing workshops here.