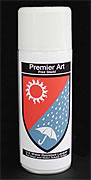 There's a print spray that anyone making inkjet prints needs to know about – Premier Art's Print Shield. It's a UV water resistant lacquer that comes in a variety of finishes – matte, semi-gloss, and glossy. It offers protection from light, water, moisture, airborne contaminants, and fingerprints. It doesn't produce any visible changes in the print, either in color or density or surface.  It dries fast and doesn't have a strong odor. It reduces burnishing and scuffing somewhat. Most importantly, it greatly increases longevity, in some cases by as much as 200%
Each $15 400ml can covers approximately 75 8×10" prints.
Henry Wilhelm has tested prints sprayed with Print Shield. Visit wilhelm_research.com for his most current data on longevity.
I spray all of my prints with Print Shield now.
Just like spraying a pastel, apply the fixative carefully. If the substrate gets soaked the surface may darken permanently. Instead of spraying the print directly, spray the air above the print and let the mist fall onto the print surface. Let the print dry for a few minutes. Then reapply.
Find PrintShield here.
Read more about the tools I use here.
Learn more in my digital photography and digital printing workshops here.