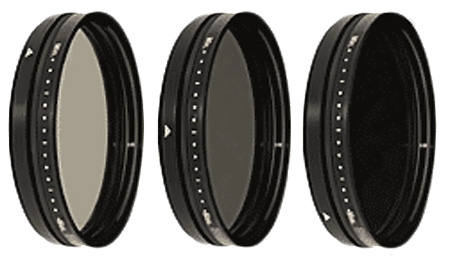 This one filter performs the function of many.  Reduce the amount of light coming through your lens by 2 to 8 stops. Simply rotate the filter to increase or decrease the effect.
Frame and focus with the filter on at minimum density. Rotate the filter to intensify the effect. It can get so dark you can hardly see through it.
Because the Vari-ND is so easy to use, it encourages experimentation with a wide range of exposures and effects.
Make long exposures.
Make selective focus easier.
Enhance close-up flash control.
Exaggerate the effects of panning during exposure.
As you test your Vari-ND Filter, you'll find the effects will vary with focal length, direction and speed of motion (your subject's or your own or both), and of course duration of exposure.
Use the preview on your DSLR to confirm your results instantly. Monitor your histogram after exposure to confirm proper exposure.
The Vari-ND comes in 77 and 82 mm sizes. Adaptors for other sizes are available.
The Vari-ND can be used with most other Sing-Ray filters, except Polarizers. You can amplify the effect of the Vari-ND by stacking it with the Mor-Slo 5 Stop Solid ND Filter.
Singh-Ray filters are legendary for their optical quality.
The VariND filter is one of the few filters I use.
For more information visit www.singh-ray.com.
Find out more about the tools I use here.
Learn more in my digital photography workshops.