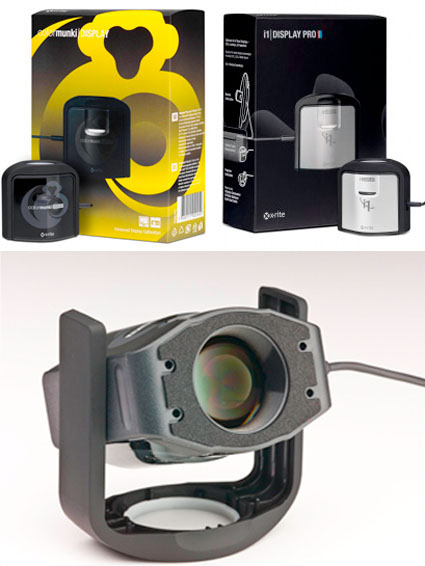 X-Rite's new ColorMunki Display and i1Display Pro make major leaps forward in color managing displays.
Technologically Advanced Hardware
Both ColorMunki Display and i1Display Pro devices feature an advanced, high-end, optical system with custom-designed filters that provide a near perfect match to the color perception of the human visual system, delivering superior color measurement results.  Both devices fully support all modern display technologies, including LED backlight and wide gamut displays. Both devices are spectrally calibrated, making them fully field upgradeable to support future display technologies.
The ergonomic all-in-one design combines three important functions …

Ambient Light Measurement – an integrated ambient measurement diffuser allows you to to take ambient light measurements of your work environment.
Display Profiling – rotate the ambient diffuser arm and adjust integrated counterweight, with push button action, along the USB cord for display profiling ease.
Projector Profiling – rotate the ambient diffuser arm to use as a tabletop stand for device positioning, or use the built-in threaded tripod mount for larger venues.
Next Generation Profiling Software
Ambient Light Measurement – automatically determine the optimum display luminance for comparing prints to your display, based on a measurement of the lighting conditions where prints will be viewed.
Ambient Light Smart Control – the intensity or amount of ambient light surrounding your workspace affects the way you perceive colors on your display. These solutions can compensate for this effect and provide the option to automatically adjust your profile or simply notify you as ambient light conditions change.
Flare Correct™ measures and adjusts your display profile for reduced contrast ratios caused by flare light (or glare) falling on surface of display. By accurately measuring your effective display contrast ratio, you'll have an even more accurate display profile.
Intelligent Iterative Profiling, an adaptive technology that produces optimized results for maximum color accuracy on each unique display every time you profile.
Automatic Display Control (ADC) technology automates the adjustment of your display's hardware (brightness/backlight, contrast, and color temperature) to speed up the profiling process and eliminate manual adjustments to ensure highest quality results.
Find out more about ColorMunki Display here.
Find out more about i1Display Pro here.
Read more in my color management ebooks.
Learn more in my digital photography and digital printing workshops.