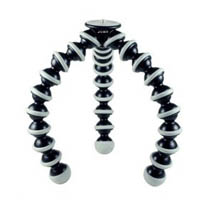 Gorilla Pod's. It's not for your music. It's for your camera. These little baby's are adorable! More importantly, they get you thinking about where you can place your tripod in entirely new ways. Put your camera on the floor. Put it on the back of a chair. Put it on the edge of a table. Put it on the top of a door. Put it on a car door, mirror, or bumper. Put it on a beam in the ceiling. Put it on a street sign. Put it on a trash can. You get the idea. It turns where you put your camera into a game. And you get even more creative!
The smallest unit isn't stable enough – pass on it. All the others are great. While I take extra care when using my Gorilla Pod with my Canon DSLRs (particularly with a long lens), I use my Gorilla Pod without hesitation with my Canon G9 point and shoot – even for video! Video from the ceiling? Yes!
You can see it in use in all of my workshops.
Check out the Gorilla Pod and the other products in my AStore here.
Check out my PDF Reviews here.
Check out my field workshops here.
Get a 20% discount on my Iceland (8/18-22) workshop here – expires 8/10.
Get a 15% discount on my Fall Foliage (10/17-20) workshop here – until 8/17.
The first 5 Insights Members get $1000 off South America (2/2-14/09), thereafter $250.