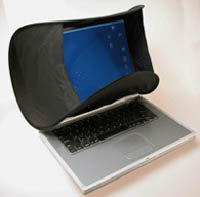 Have you ever needed to see your portable computer in a bright environment, like out in the field in the middle of the day? I use the Hoodman Eclipse 15″ Laptop Hood.
"Sun Shades for PowerBooks / PC's Eliminate Glare! Allows Private Viewing! Pops into Shape! Folds Flat in Seconds! Travel Bag Included! LCD screen sizes are measured on the Diagonal. If you own an Apple PowerBook, order the Apple hoods. If you own a PC laptop computer order the PC hood."
Private viewing aside, the shade this provides, though not total can help you see what's on your screen on location. It's a simple idea and a simple device. The simple things are often the easiest to use and so the most useful.
You can see it in use in my field workshops.
Check out Hoodman here.
Check out the other products I use in my AStore here.
Check out my PDF Reviews here.
Check out my field workshops here.
Get a 20% discount on my Iceland (8/18-22) workshop here – expires 8/10.
Get a 15% discount on my Fall Foliage (10/17-20) workshop here – until 8/17.
The first 5 Insights Members get $1000 off South America (2/2-14/09), thereafter $250.