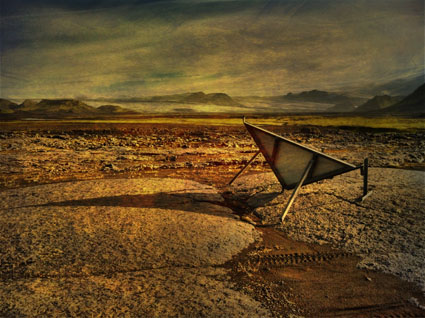 For a time, I swore off making photographs that were like postcards. I was looking for something else then. I was looking for my own unique approach to making images. My thinking was that if I took a vow of abstinence from what I knew I wasn't looking for, I'd eventually find what I was looking for. Eventually, I did.
After some time, I reconsidered this aversion to making postcard-like images. I started making them, again. Making postcards is excellent practice. You have to be fairly competent to make good postcards. Postcards survey a subject, tell a story, offer human interest, present strong color, and are composed of relatively strong graphic structures. Sometimes, postcards make strong emotional appeals. When you think about it, that's a pretty tall order.
Postcards try to do it all – and do it all competently. It's interesting to note that to transcend postcards, all you need to do is emphasize one of these qualities over the others and do that one thing excellently. Making postcards is great practice. To make good postcards you have to understand them clearly. To transcend them, you have to know the difference between them and what you're really looking for.
Below is a selection of iPhone postcards from my 2011 Iceland workshop.
Find out about my 2012 Iceland digital photography workshop here.