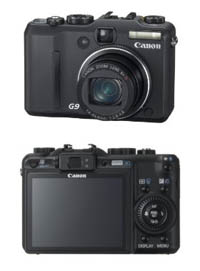 I feel photographers should have at least two cameras. One for high resolution images in print and one to play with.
Jay Maisel's advice is "Never go anywhere without a camera." It's great advice! You never know when something magical will happen and if you don't have a camera with you, you won't be able to photograph it. Small point and shoot cameras make it easier to follow this advice.
I use my Canon G9 to document all kinds of events in my life. It gets me making images in ways I wouldn't ordinarily. This helps me become more versatile and has beneficial effects on my professional work as well as my personal life. Most of the images you see on this blog are made with either my G9 or my iPhone. Most of my family pictures are now made with my G9, sometimes by my six year old son.
Do I ever make exhibition quality prints from images made with my G9? Yes! Its 12.1mp resolution exceeds the resolution of 35mm film.
Is it full featured? Yes! It has most of the features of a DSLR except interchangeable lenses. But, the G9's lens has an impressive 6x optical zoom with image stabilization.
I'm not saying it replaces my Canon 1DSMKIII DSLR. Maybe one day small cameras like this will replace larger ones. Right now, they create a new niche. That means more photographs are being taken – sometimes more interesting pictures as a result.
Oh, and in a pinch, don't forget your cell phone. Pulitzer Prize winning pictures have been made with cell phones.
Find out more about the Canon G9 here.
Check out this product and many others I use in my AStore here.
Check out my PDF Reviews here.
Check out my field workshops here.
Get a 20% discount on my Iceland (8/18-22) workshop here – expires 8/10.
Get a 15% discount on my Fall Foliage (10/17-20) workshop here – until 8/17.
The first 5 Insights Members get $1000 off South America (2/2-14/09), thereafter $250.
Space just became available in my workshop in Namibia.