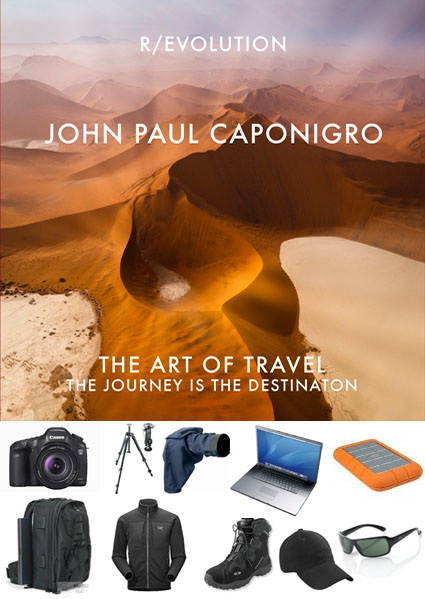 I  store this packing list in my bag to make packing efficient. I modify it if a trip has special considerations. Please feel free to copy this list and modify it for your unique needs or to share this link with your friends.
Camera Bag
Store cameras and lenses in plastic bags …
2 Cameras – Canon 5DSR
2 Camera – Battery Charger With Extra Battery
1 Universal Power Strip
1 Universal Electrical Adaptor
1 Lens – 11-24mm
1 Lens – 24-170mm
1 Lens – 70-200mm
1 2X Extender
1 Camera Rain Cover
4 Memory – CF Cards
4 Memory – SD Cards
1 Sensor Cleaner Dry Brush
2 Sensor Cleaner Wet Swab
1 Lens Cloth
1 Tripod and Tripod Head (store with clothing)
1 Gorillapod
1 iPhone Tripod Adaptor

Computer Bag
Store hard drives and pens in plastic bags …
1 Computer – Mac Book Pro
1 Computer – Mac Book Pro – Power Supply With Adaptors
1 Harddrive – Bootable Copy of Portable Computer
2 Harddrives – Raw Files and Raw Files Backup
1 Card Reader and Cable
1 Microphone and adaptor
1 iPad Power Supply and Cord
1 iPad to VGA Adaptor
1 Miniport to VGA Adaptor
1 iPad and Cable
1 Earbuds
1 Apple Pencil
1 Mechanical Pencil
3 Pens Varying Thickness
1 Pack of Paper (emergency contact info, copy of insurance, copy of passport, notes, blank)
1 Screencleaner
1 Hand Sanitizer
1 Eyedrops
1 Benadryl
1 Powerbar

If International Add
1 Passport
1 Carnet (or paper of insurance policy above)
1 Global Entry
Learn more in my digital photography workshops.
View my webinar The Art Of Travel here.
View my Equipment Packing List here.
View my Clothes Packing List here.