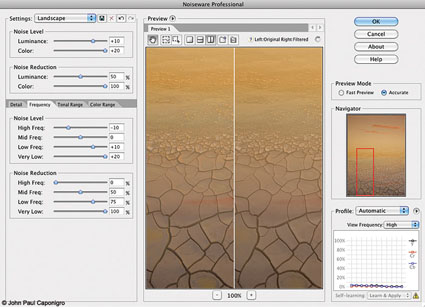 Who doesn't have noise? If you don't run into noise in your digital images, at least once in a while, you may not be pushing the envelope enough. You can photograph long after dark; if you haven't tried it, you owe it to yourself to experience this—it's magical. And if you find you don't have a DSLR on hand, this should be no reason not to make pictures with a point-and-shoot or cell phone.
Whether you're using a cell phone, a point-and-shoot digital camera or a DSLR at high ISOs or with very long exposures, you're bound to run into some noise. Noise happens. When you have it, there's a lot you can do about it. There are many ways you can reduce noise during postprocessing; you could even say there's an art to it. Learning these techniques can improve good exposures and save others.
If Lightroom and Photoshop fail to adequately reduce noise in your images, it's time to move to third-party plug-ins. For years, they've done a superior job of reducing noise, and they still do. While there are many fine third-party plug-ins for Photoshop (Noise Ninja, Neat Image, Dfine, etc.), one stands out from all the rest: Imagenomic's Noiseware Professional.
For me, Noiseware is the most robust noise-reduction software available. Ironically, while it offers the most sophisticated feature set, very often the default settings when you first open an image are all you're likely to need. In many cases, very little, if any, additional tweaking is necessary …
Read more at Digital PhotoPro.
Find Noiseware here.
Learn more in my workshops.