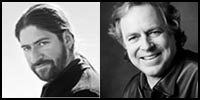 See it first and use it at Caponigro & Holbert's The Fine Art of Digital Printing workshop series. Epson's newest 13″ photo quality printer, the Epson R2880 (list $799)("The world's best 13″ printer.") will be available for participant use at the Hallmark Institute of Photography July 20-25.
Last fall, at the Brooks Institute of Photography, participants were able to use the recently unveiled Epson Exhibition Fiber Paper. Special guests often appear, like Gregory Heisler and Vincent Versace. There are always many surprises in these workshops!
Gregory Heisler said, "Together, Mac and John Paul cover all aspects of fine art digital printmaking in a logical, easily understood format. They generously share their time-tested techniques, sure-fire shortcuts and invaluable personal observations while patiently demystifying the process of digital printmaking at its highest level. Yet they never lose sight of the ultimate goal: to realize the vision of the artist. The image remains paramount."
Vincent Versace said, "Rarely, if ever do you get the oppertunity to have a teacher show you something that changes the way think and create. Even rarer is when lightening strikes twice. I have never had workshop experience effect me and my work as profoundly as the workshop taught by John Paul Caponigro and Mac Holbert."
This premiere workshop is the chance of a lifetime. Learn from two master digital print makers at the same time, fresh off their highly successful tour in the Epson Print Academy. The workshops will be held in the state-of-the-art labs of today's premier photographic educational institutions. This workshop will expose you to a world of new possibilities. The workshop translates photographic language and practices from traditional to digital and exposes participants to a world of new possibilities.
Only a few spaces in both venues are left. Register today!
And if you want to get priority status for next year's FADP workshops sign up for the Waiting List.
July 20-25, 2008
Hallmark Institute of Photography
Turners Falls, MA
October 26-31, 2008
Brooks Institute of Photography
Santa Barbara, CA
Find out about the Epson R2880 here.
Find out more about The Fine Art of Digital Printing workshop here.
Find out about The Fine Digital Print workshop series here.