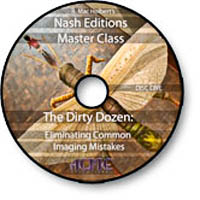 The Dirty Dozen: Eliminating Common Imaging Mistakes – Mac Holbert's first DVD is about to be released by Acme Educational.
Mac's a pioneer in the field of digital printing. He's also a dear friend. I can't think of another person I'd rather teach digital printing workshops. We do it twice a year in special workshop sessions sponsored by Epson – The Fine Art of Digital Printing. (We just finished a great five day session at the Hallmark Institute of Photography.) Mac's presentation on fine art workflow is first rate. I do similar workflow sessions in all of my workshops. We'll be presenting a session on the topic together at PhotoPlus East this year. We also cover it in our Epson Print Academy sessions. It's a corner stone of our workshop. And his new DVD covers many of the topics Mac demonstrates during these sessions.
Here's what you'll find on his DVD.
"When it come to fine art printing R. Mac Holbert along with Graham Nash started it all. If it was not for them fine art inkjet printing would not be what is today. Simply put Nash Editions is THE name in fine art printing and R. Mac Holbert is the talent behind that name. This DVD is the first of R. Mac Holbert's Nash Editions Master Class. This is a truly unique opportunity to have access to the knowledge of one of the pioneering innovators of digital imaging.
Have you ever printed an image only to find you've overlooked a minor but critical mistake? Or have you made a small print, only to find a larger print shows issues that need to be fixed in Photoshop? Whether you print your own images or send them to a service, this Nash Editions Master Class DVD is an invaluable lesson on eliminating twelve common imaging mistakes. Distilled from 18 years of printmaking experience these elementary mistakes are made routinely, not only by the neophyte, but by the seasoned professional as well. Learning to avoid them will save you time, printing costs and ultimately will enable you to more precisely realize your vision on paper.
Learn how to correct contaminated neutrals with only one layer, doing the work of 4 -5 color correction layers. Learn how mid-tone contrast can add dimension to your images. Get these and other techniques on your workflow checklist, integrate them into your workflow and take your images from the ordinary to the extra-ordinary."
Topics include …
Destructive Workflow
Oversharpening
Midtone Contrast
Image Alignment
Imprecise Cropping
Bad Masking
Contaminated Neutrals
Unreasonable File Size
Untagged Files
Cross Purpose Layers
Incorrect Layer Stack
File Extension Issues
It's $39.95 until it ships and $49.95 thereafter.
Check out Mac's DVD here.
Find out more about The Fine Art of Digital Printing workshop here.
Find out about my The Fine Digital Print workshop series here.