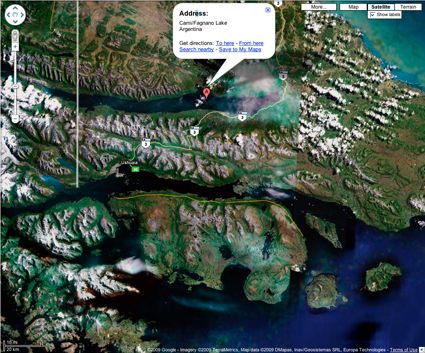 We (Caponigro, Johnson, Resnick, Schewe) got the lay of the land today. We tapped local resources for information about the area, scoured maps and guide books, rented a car, and drove through the mountains to Lake Fagnano. The local landscape isn't particularly distinctive. I had low expectations. I was just along for the ride. So I experimented. I warmed up with my new 5D Mark II. I tried a lot of things with multi-shot images. I find it takes practice to learn new ways of seeing. It's one thing to understand an idea intellectually. It's another to learn to see in new ways and be able to practice it. At the end of the day I was thinking and seeing in new ways, making my approach more versatile. I was surprised at how many images I made – 8 gigs later. Will there be any keepers?
While it may be challenging to find compelling images here, it's easy to find an adventure. Tomorrow we take a 3 hour guided hike to ice caves in the mountains. Though I expect to make fewer images, I have high hopes. Whether I shoot a lot or a little, one real keeper would be welcome. It will be interesting to see the results.
What's the influence of expectations on results?
The research has also clarified goals for future trips. Next time, I'd like to plan extra time to see Iguazu falls (in the northern Argentina) and/or walk the glacier's near Calafate (western Argentina).
Enjoy my Antarctica galleries, book, and statements.
 
Learn more about my workshops here.
Early registrants get discounts at home.
Members get discounts abroad.