Dan Steinhardt – About Paper / Meaningless Terms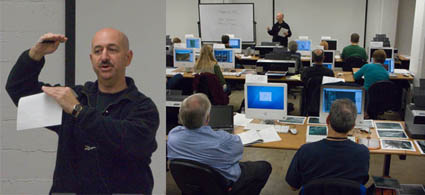 Last week at The Fine Art of Digital Printing workshop The Fine Art of Digital Printing workshop (taking place at Brooks sponsored by Epson) spoke about paper. We always have special guests at these events and we were delighted that Dano was able to come this time. Dano explained a lot of interesting things about paper (three types – swellable, microporous, cotton fiber)(the history and myths of OBA's – optical brightening agents – used in paper coatings, some longer lasting than others)(longevity facts – it's a combination of many factors, lightfastness being only one).
One of the funnier things that everyone came away with was how many terms we're used to hearing and using that are essentially meaningless and can be potentially misleading if you make assumptions often associated with the terms. "Fine art paper", "museum grade", "archival", "pearl", "luster", "stipple" are all marketing terms with no definite meaning. "Permanent" means water fast, but doesn't imply light fast. "Compatibility" simply means the paper will transport through the printer – nothing more. So it pays to know which terms are truly meaningful/useful and which terms aren't.
More to come on this. Stay tuned.
Look for upcoming Epson Print Academy dates here.
Check out The Fine Art of Digital Printing workshops here.
Check out my Fine Digital Print workshops here.