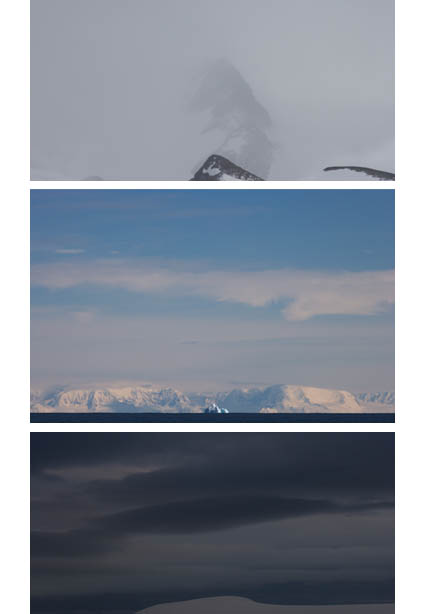 Several images changed for inclusion in my book Antarctica. Why? The original versions contained small, but significant,  elements that were composited from other sources. So I removed them for this project. Even though it's often highly interpretive, editorial work is about representing the scene as it was witnessed. It wasn't clear to me until after the initial voyage what kind of project I was developing. As it became clearer and clearer I realized I needed to put certain restrictions on my standard practices – otherwise it would become a different kind of project. There's nothing wrong with those practices. They're just not appropriate for this kind of project.
It's usually only astronomers who realize that the moon in the first version is impossibly lit; it should have light on the same side as the iceberg and mountains. I like to leave clues like this for the viewer that alerts them to the fact that images have been altered. With my other type of work, I usually don't tell them. Instead, I let them figure it out. This keeps viewers asking a lot of questions, which is really beneficial for everyone. In the case of my Antarctica work, I'm now doing the reverse. It's appropriate and relevant to do so. In this case, full disclosure raises more questions. Questions and dialog are useful.
Find out about my exhibit here.
Stay tuned daily for more resources.
Get priority status in my Antarctica 2011 workshop.
Email info@johnpaulcaponigro.com.