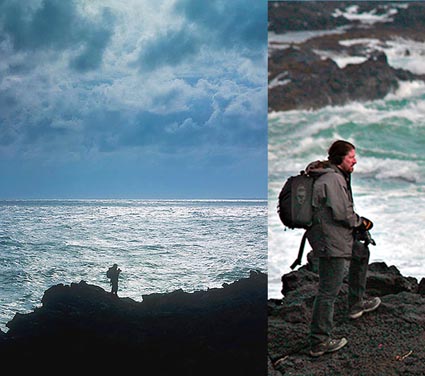 Focus On Nature's Einar Erlandsson asked me about my thoughts on my past (2008) and future (2009) workshop in Iceland, as well as my approach to teaching.
Here's an excerpt.
Q: Do you see the light in Iceland as being different in some way?
A: Iceland's light is ever changing. It moves so fast you have to stay alert.
Q: What in the landscape inspires you?
A: Extreme variety. Intense energy. Challenging complexity.
Q: Do you feel that the Icelandic workshop is different or has a character you can explain in few words to participants?
A: Iceland, both the landscape and its people, has a unique character. It's very complex landscape with astonishing geologic variety – rugged seascapes, glacial lagoons, active volcanoes, Europe's largest icecap, Europe's only desert. The culture is simultaneously ancient (oldest European language, isolated genetic strain, different surname conventions) and high tech (cutting edge geothermal and computer technology). The people behind Focus on Nature are all professional photographers each with a lifetime of experience in Iceland. They know all the ins and outs of the place, the hidden spots and unusual people who would go unnoticed by someone without that experience. They're extremely gracious. When it's cold, Raggi pulls out a surprise stash of Russian Cognac. When it's raining, Einar is suddenly found standing next to a student – with an umbrella. Everyday you'll be surprised. You'll get lost in Iceland. Be careful. If you go, you may not want to leave and you'll definitely have to go again.
Read the rest here.
See my past Iceland blogposts including participant work here.
Space is still available. 10% discounts apply through April.