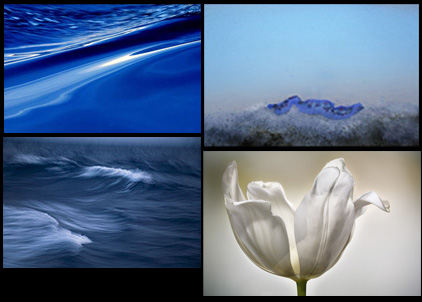 Images (left to right, top to bottom) – Jim Graham, Andree Laliberte, Ginette Vachon, Barbara Myriam.
This week's workshop participants are all longtime alumni of my workshops. It's a small intimate group – Ginette Vachon (Swiss based veteran world travel photographer), Andree Laliberte (Canadian installation artist), Barbara DeAngelu (Columbian mystic and Photoshop beta tester), and Jim Graham (Maryland based Pulitzer nominated photojournalist). They know each other before they arrived, either directly or from online exchanges.
After two days of being overstimulated by dramatic environments (continental rifts, volcanic coastlines, geothermal lagoons, steam vents, and paint pots, moss covered valleys) and working in challenging weather (wind and rain) this group had the wisdom to slow down. Recharge, Regroup. And focus. We reviewed (shared images and feedback) each other's work. We reviewed the work we've done so far in Iceland. We identified what's working and what's not. We made an action plan for the coming days with a list of things to watch, things to try, and specific work to concentrate on to ensure that the images we come away with are not only technically good but also advance our individual visions and bodies of work. Now that's focus. That's time well spent. In a stimulating environment, few have the discipline to take this time. But taking this time helps you make quantum leaps.
At the end of the day, we went back to one of the first locations more informed and more focussed.
Find out more about Focus on Nature here.
Get Priority Status for all 2009 workshops now by emailing einar@focusonnature.is.