Sunshine! After days and days of gray with next to no visibility and rain, the sky broke open. Cold katabatic winds churned the seas. We visited the abandoned base of Stonnington Island, gazed on the glacier behind it, and cruised the iceberg strewn harbor in zodiacs. One small iceberg exploded a mere few paces from us, disintegrating in a scant few seconds. The evening color was exquisite. White is such a changeable color. Lavender and gold, warm blue shadows, cool blue ice, naples yellow distant mountains turning pumpkin next to robin's egg blue-green sky. Few people would believe the colors tonight were real. We could hardly believe that the color never truly faded. Sunset started after 10 pm, most of us slept after 2 am, but a few never did, photographing all "night" long and through the golden dawn.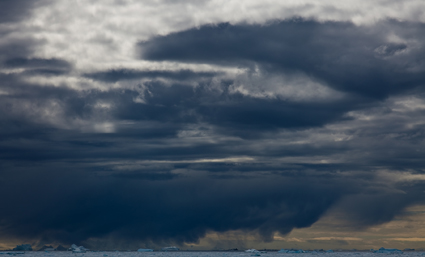 A white balance target was of little use in these hours. The most important pieces of equipment, after a cameras and lenses, were waterproof camera bags. They were essential for protecting equipment while making the quick moves between locations and return to the boat, where sea spray doused us.
Enjoy my Antarctica galleries, book, and statements.
Learn more about my workshops here.
Early registrants get discounts at home.
Members get discounts abroad.