"Unlocking The Secrets Of The Creative Process – Part 3" A Conversation With Photographer Eric Meola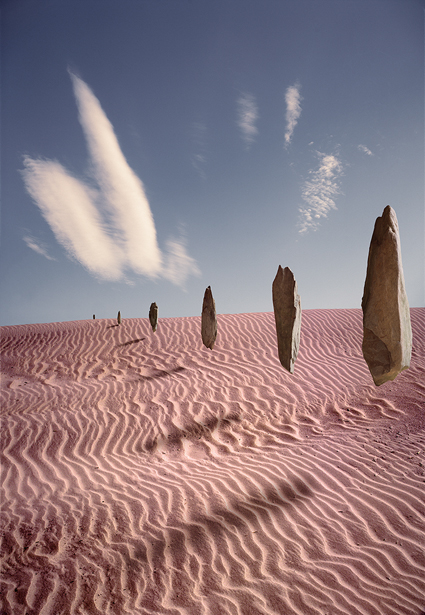 Photographer Eric Meola and I share our insights on the creative process in this three-part conversation. In the third installment we discuss the role of chance and surprise in creativity.
EM: In describing how he wrote "Like a Rolling Stone," Bob Dylan said that he found himself writing what he called "this long piece of vomit, 20 pages long."
"And out of it," he recalled, "I took 'Like a Rolling Stone' and made it as a single. And I'd never written anything like that before and it suddenly came to me."
If nothing else, Dylan has always been incredibly prolific. "Practice, practice, practice," says Bruce Springsteen. And then one day there's your father's image "Galaxy Apple." Is that part of what process is about … the yin and yang between chaos and discipline?
JP: Process is how you get there. It doesn't just happen. And it unfolds through time. The final results may have come quickly, but it took a long time for Dylan to get into the specific state of flow that would produce his song. The same is true for everyone, including photographers.
This reminds me of a time when I introduced a friend of mine to my father. He said, "Oh, you're that photographer. Gosh I'd like to have your career. All those 1/125ths of a second. What's that add up to? A 20-minute career?"
Dylan's statement, "I was so much older then, I'm younger than that now," seems related to Picasso's "It takes a long time to grow young."
EM: And Dylan as a teenager in Hibbing, Minnesota, used to listen all night to Hank Williams and Little Richard on the radio—it was all part of the "process" of gearing up for "Bringin' It All Back Home."
You mention using a Spirograph as a child to make circles, ellipses and various radiating designs. And some of these patterns continue to show up in your latest imagery. How important is a sense of wonder to photography, or any art form?
JP: How important is a sense of wonder to a life well lived? I think it's essential. Keeping our sense of wonder alive and well increases our openness, curiosity, sensitivity, perception, playfulness, passion, pleasure, and many other positive benefits. This is related to keeping our inner child or the childlike (not childish) aspects of ourselves active and vibrant.
EM: We've discussed chaos versus discipline in art. What about a happy accident—serendipity? What role does "chance" play in process? In the film Pollock, Ed Harris shows Jackson Pollock stumbling onto the process for his drip paintings. Do you ever look at something you've done or have been thinking about and suddenly make a leap to a concept that had not occurred to you before? I'm also thinking of Kubrick's famous visual metaphor early in 2001: A Space Odyssey, where the ape throws a bone that morphs into a rotating space station.
JP: There are two questions here. My answer to both is yes …
Read my conversation with Eric Meola about Eric Meola here.
Preview my ebook Process here.