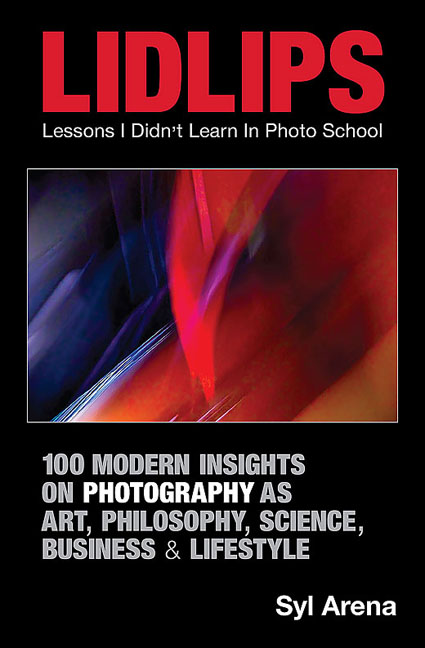 Lessons I Didn't Learn In Photo School
Syl Arena's LIDLIPS started as blog posts on Pixsylated. They were so popular he's collected them in a book.Syl delivers common sense wisdom that refreshes, provides a useful perspective, and brings you back to center.
Here's one.
36. Make photos even when you don't have a camera
Photography has way more to do with seeing than it does with driving a piece of hardware. Practice your skills as a photographer even when you don't have a camera. Make mental pictures anywhere at anytime. Study the light around you. Watch the gestures and expressions of people across the restaurant. Look for geometry in the surfaces and shadows around you. Pick a word. Say it to yourself every time you take a mental picture. "Snap".
Here are 9 more topics.
Don't confuse distraction with creativity.
Embrace stress as the opposite of apathy.
Making yourself vulnerable is a sign of strength.
Listen for answers to questions you didn't ask.
Look along the edges to find the in betweens.
If your camera were a pencil or a crayon it would be easy to understand it's limitations.
Make photos even when you don't have a camera.
Creativity comes as a breeze before it comes as a gale.
Be prepared for your dreams to come true.
Find all 100 LIDLIPS and the book here.
Find LIDLIPS on Amazon here.
Find my creatvity Lessons here.