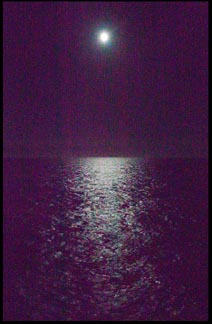 During our South American Cruising Through Life workshop we saw some amazing atmospheric effects: a fabulous smoky red moonrise; a moonbow with parahelia (brighter iridescent flares at the sides); and a star so bright and low on the horizon that it cast a long line of reflection in the ocean. These experiences made a lasting impression on me. I'm sure they'll make appearances in my work. I made exposures, but none of these phenomena could be captured adequately on a moving boat. The situation and the tools at hand didn't make finished exposures. But I'll make finished images from the situation, using a combination of digital photography and rendering. I look forward to the day photography is able to capture images like these in these situations directly. I'm sure this won't stop me from continuing to render images. But it will present me with new opportunities. Until then a little invention is required.
Find out more about Cruising Through Life here.
Find out more about Vincent Versace here.
Find out more about my Atmospheric FX ebooks here and here.
Find out more about my Atmospheric FX DVD here.
Read what one happy viewer though about my DVD Atmospheric FX here.
Find out more about my upcoming workshops here.
Sign up for Insights for advance notice and discounts on upcoming workshops.