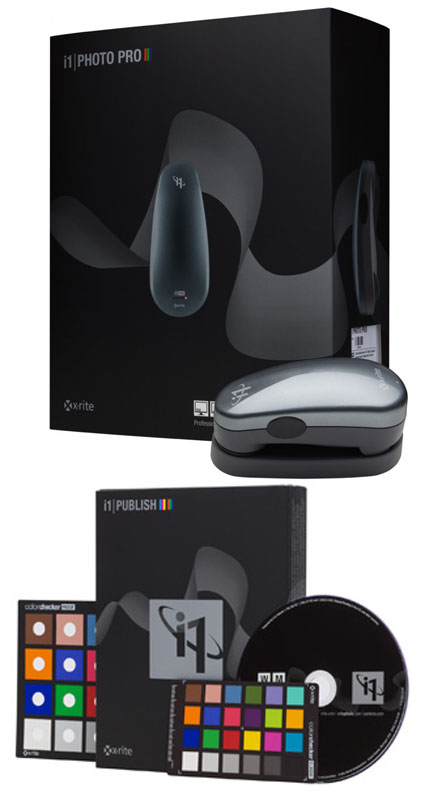 "The long awaited day is here!  X-Rite i1 Professional solutions, which includes the new i1Photo Pro, are now available. Each solution features the all-new i1Profiler software application designed to delivers superior color results!  i1Profiler is driven by a new color engine, sports a dual mode interface (basic and advanced) and new quality assurance features, plus so much more. The new i1Photo Pro was designed specifically for discerning photographers to attain the highest quality color results and color control throughout your complex digital photo workflow, at a very attractive price.
The new portfolio is comprised of three software/hardware/target bundles ­– i1Basic Pro, i1Photo Pro, i1Publish Pro – and i1Publish, a software/target solution. All four feature groundbreaking new i1Profiler software technology designed to accommodate all levels of proficiency and expertise, and provide the power and control needed to create the highest quality color profiles. The new PANTONE Color Manager color swatch bridging software,  ColorChecker Proof, a new ColorChecker target for direct viewing analysis against a printed target and ColorChecker camera calibration system are also featured.
Upgrade packages are available for those who have i1Pro devices as well as MonacoPROFILER 4 and ProfileMaker 5 users. Read more about the upgrade opportunities and review the features of i1Profiler software at www.xritephoto.com."
The advances in software make every function more precise.
Printer profiling takes a major leap forward with easy to make light temperature and image specific profiles.
If you haven't invested in X-Rite technology do it now.
If you have, upgrade now.
This is a major upgrade that all users should seriously consider.
Find out more about i1Photo Pro here.
View more in my DVD 6 Simple Steps to Good Color Management.
Learn more in my digital printing and digital photography workshops here.