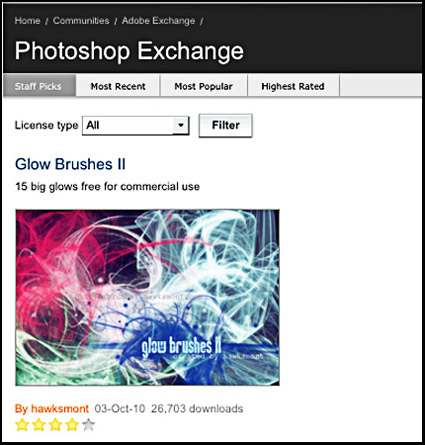 "Where do you go to access over 10,000 unique Photoshop presets, templates, tutorials, plug-ins and more? Visit Photoshop Exchange, the Adobe hosted website for customers who want to discover and share Photoshop content with each other. They recently crossed the 10,000th item milestone, adding 600 new submissions since January. The majority of the content is free, and those few paid pieces of content average about $4.
If you're looking for inspiration, or just want to try out some new styles, effects or practically anything else that can be customized in Photoshop, you will find Actions (51% of Exchange's content), followed by Styles (15%) and Brushes (10%), as well as shapes, tutorials and patterns, and many elaborate and useful Templates (.PSD files, ranging from Web components and complete site designs, brochures, flyers, 3D presentation graphics, print ads and the like), which can save you time and even help you explore how advanced users build complex and beautiful files."

Visit Photoshop Exchange here.