Cartooning Our Way Through Iceland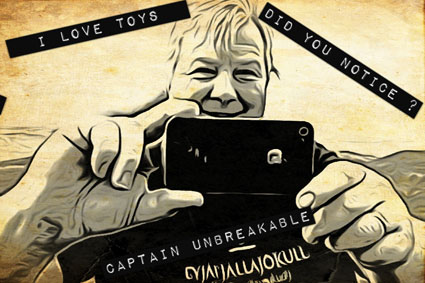 We have a lot of fun in my workshops. Often, we use our iPhones to stimulate creativity. We try all sorts of creative experiments. This trip, one of the experiments I tried was creating cartoons of participants as superheroes or supervillains. It all started when our guide Ragnar Th. Sigurdsson put a luggage label on his chest with a fragile icon. I made a not sign on it with a Sharpee pen and he became Captain Unbreakable. Then I made an ironic cartoon of him with my iPhone. (Apps used are Toon Paint, Pic Grunger, and Label Box.) Everyone was laughing. Everyone wanted to play. We laughed our way through Iceland.
Because we were playing this game, we thought frequently about what text could/would accompany our images – titles, captions, essays and more. Frequently, a little levity can lead to useful creative insights.
Here are some of the images from these ongoing hijinks.
Find out about my 2012 Iceland digital photography workshop here.