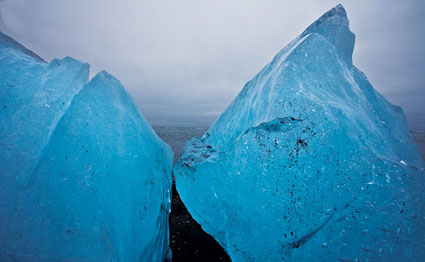 Some noise is random; some noise is fixed. Hot-pixel noise is fixed. What are "hot pixels"? Photosites on digital sensors that generate brighter information faster than their neighbors. Hot pixels get brighter at higher ISOs, with longer exposures, and in warmer temperatures. You can map where hot pixels are and exactly how bright they get under specific conditions with a dark slide. Then you can use a dark slide to drop out fixed "hot-pixel" noise with a simple postprocessing technique in Photoshop.
To make a dark slide, simply make a separate exposure made at the same ISO, exposure time and temperature as the image you intend to use it with. Exposure of what? Darkness. Leave your lens cap on.
To use a dark slide in Photoshop, open the dark slide and the image you'd like to use it with and drag and drop the dark slide into that image file, holding the Shift key to make sure it's precisely registered (wait to crop or rotate an image until after this is accomplished). Change the blend mode of the dark-slide layer to Difference and watch the hot-pixel noise vanish.
Learn more about making and using dark slides on Digital Photo Pro.
Learn more about noise here.
Learn more in my digital printing workshops.