Adobe Releases Photoshop.com iPhone App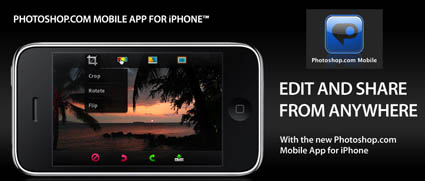 Photoshop on iPhones? Cool!
I'm enjoying this tiny app. Lighten and darken. Saturate and desaturate. Crop. Flip. Soft focus and a few other special effects.
I'm also want an upgrade – fast. Hue control. Rotation during cropping. Sharpening. Free Transform. Liquify. A brush for localized adjustments.
Find out more and get the free app here.
Check out photoshop.com here.