Epson Print Academy – New Dates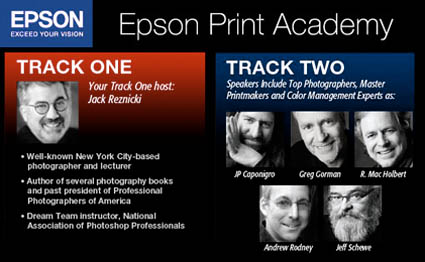 The Epson Print Academy is gearing up for another tour. There are two tracks.
Track I programming includes …
Jack Reznicki seminars and hosts.
Video presentations by top industry experts.
Track II programming includes …
Andrew Rodney    Color Management
Jeff Schewe        Raw Conversion
Greg Gorman     Black and White
Mac Holbert     Fine Art Workflow
J P Caponigro    21st Century Dodging & Burning and The Art of Proofing
Video presentations with Michael Reichmann, Henry Wilhelm, and Epson Professional Product Managers.
Which track should you attend? Find out here.
Nov 8, 2008       Atlanta
Nov 16, 2008     Washington DC
Dec 6 , 2008      New York
Dec 13, 2008     Dallas
Jan 31, 2009      Seattle
Feb 7, 2009       San Francisco
Feb 21, 2009     Los Angeles
Feb 28, 2009     Boston
Mar 14, 2009     Chicago
Mar 21, 2009     Toronto
April 4, 2009      Minneapolis
April 25, 2009    Denver
May 3, 2009       New York
May 9, 2009       Los Angeles/Orange County
May 16, 2009     San Francisco
May 23, 2009     Vancouver
Get more details on dates and locations here.
Track 1 costs $79.95. Track 2 costs $149.95. This is one of the best deals around. Sign up now!
Check out Schewe and Reichmann's video tutorial here.
Check out Holbert's DVD The Dirty Dozen here.
Check out my DVDs here.
Check out my Fine Digital Print workshop series here.
If you attended the Epson Print Academy tell us what you liked and what you're looking forward to. Comment here!